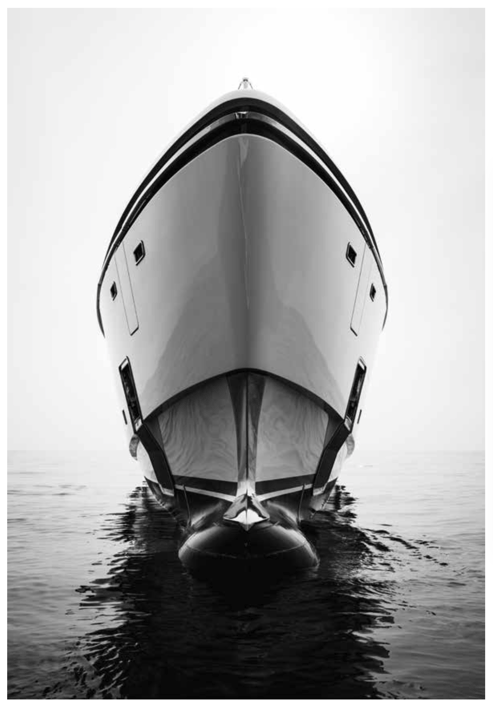 AN ENDURING INDUSTRY
2021, perhaps surprisingly, has proven to be an outstanding year for the superyacht market (the "superyacht" designation is used for luxury vessels more than 30m in length). According to SuperYacht Times iQ, more than 485 such vessels have been sold around the world since the beginning of the year, a number that translates to sales of approximately EUR 4.77 billion. The comparative number of vessels in 2020 was 296 and EUR 2.8 billion respectively.
TOP DESTINATIONS
There is currently a noticeably increased demand, not just by experienced owners, but also by first-time purchasers finally ready to take the leap. The summer that just came to a close saw the Mediterranean and the Adriatic Seas, and countries such as Greece, Italy, Croatia and Turkey, teeming with yachts and superyachts. Greece, in particular, is not just a popular yachting destination, but also a key player in the global business, with a superyacht market (sales and charter) that is exceptionally robust and respected.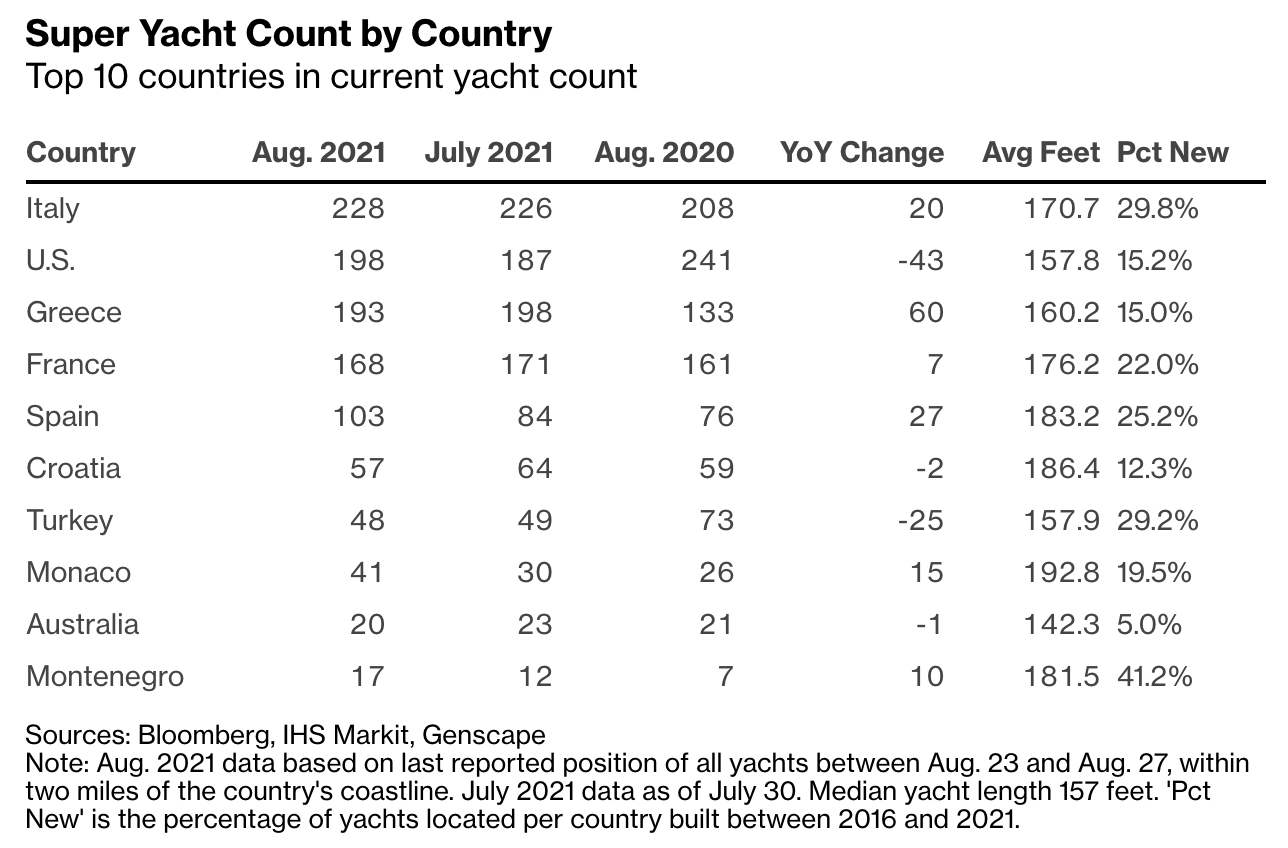 SAILING AGAINST THE WIND

The year the pandemic entered our lives was a difficult one for the superyacht market (wasn't it for everyone?). The first wave practically halted all activities relating to tourism, travel and leisure. Yet for the niche market that is the superyacht universe, this was the apex of an already problematic decade. In this métier, where profit margins aren't actually as high as one might think, where the clientele is exceptionally demanding and raw material costs have been soaring for years, many shipyards had to close down and the whole industry had to figure out ways to survive and rethink within a new context. It seems, however, that we have currently entered a new era of smoother sailing.

EXTRINSIC INFLUENCE

The first wave of the pandemic created new conditions and demands, which increased the size of the superyacht market. For the first time, boat owners, prospective owners and yacht charterers felt the need for utter seclusion, not just for purposes of relaxation, but chiefly for reasons of safety. Even when luxury hotels and resorts around the world started to operate again, many people didn't feel ready to be around crowds. This change in psychology was multifaceted: along with a need to keep one's loved ones close and protected, a more tangible grasp of the unpredictability of life motivated people to fulfil their dreams as soon as possible. And let's not forget that a superyacht is indeed a dream: it's a resort on water (or even better): equipped with sumptuous quarters and every new technology and water toy imaginable, providing fantastic service and dining and, of course, a way to swim in the clearest waters imaginable.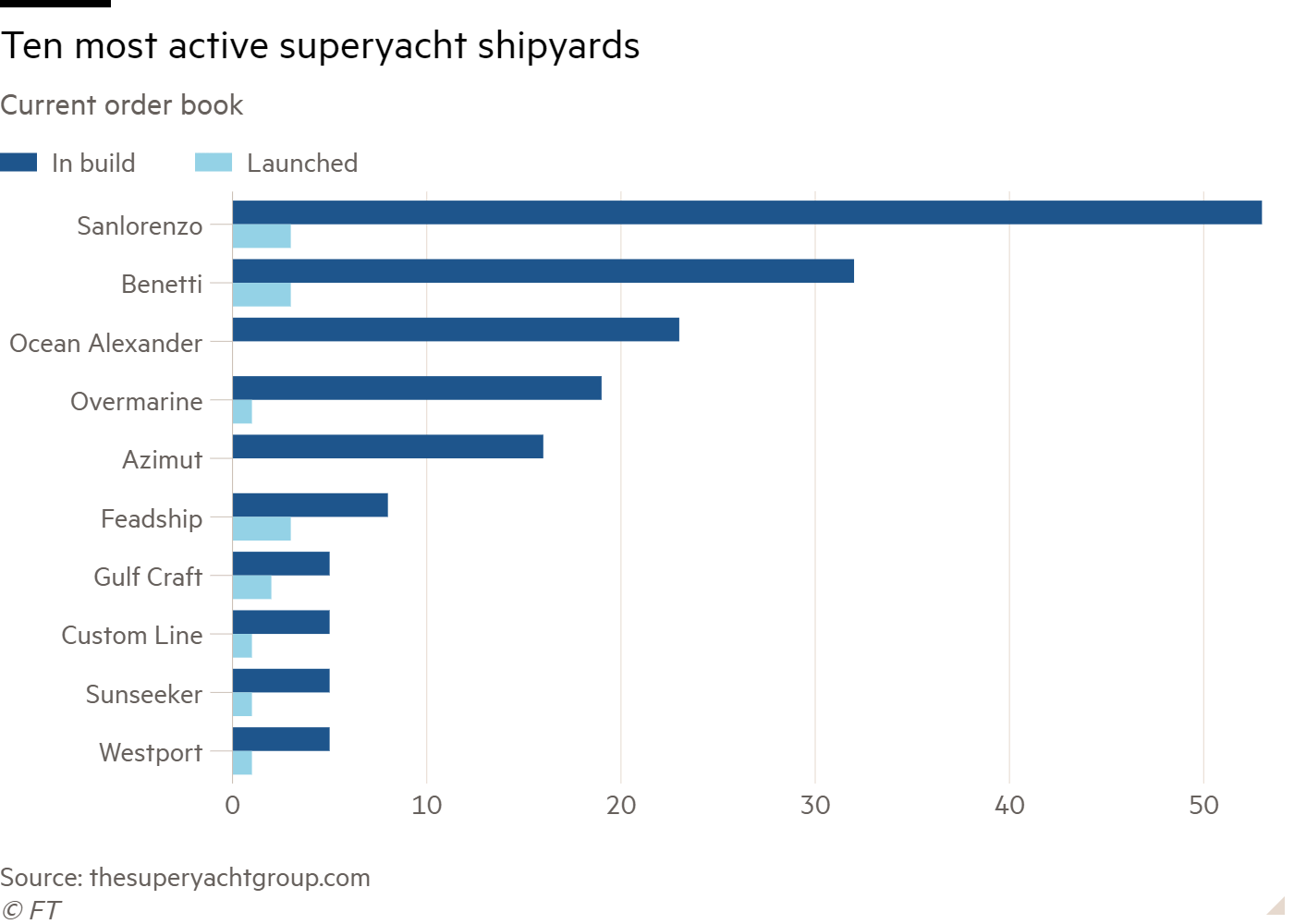 NATIVE KNOWLEDGE
In this climate, local yachting firms are blossoming into agencies that offer a comprehensive suite of services (yacht management, charter management, after sales) and become trusted partners in the owners' and charterers' quest for the perfect yacht, journey or commercial opportunity. They are involved in all stages of the process and capable of handling purchasing, financial and legal matters, crewing, marketing and asset promotion and everything in-between. Particularly so in cruising ground like the eastern Mediterranean.
GREECE PUNCHES ABOVE HER WEIGHT

According to our internal Sales & Purchase team we are currently witnessing an increase of superyacht purchases in Greece and internationally.
Our country - boasting the third highest number of owners of vessels over 40 metres after the USA and Russia - had faced a threatening financial crisis that had stopped such purchases in their tracks, so the existing fleet here aged and was not replaced.
However, the Greek shipping sector, has been doing exceptionally well during the past year, which motivates a renewed interest for superyachts by Greece-based owners. Additionally, the supply of second-hand vessels cannot cover the current demand, so a new yacht becomes the chosen solution. Despite the fact that there are still shortcomings here, such as lack of locally based financing, it can safely be argued that this trend of fresh demand is strong and observable here and on a global scale.
Superyacht Ownership by Nationality and Region: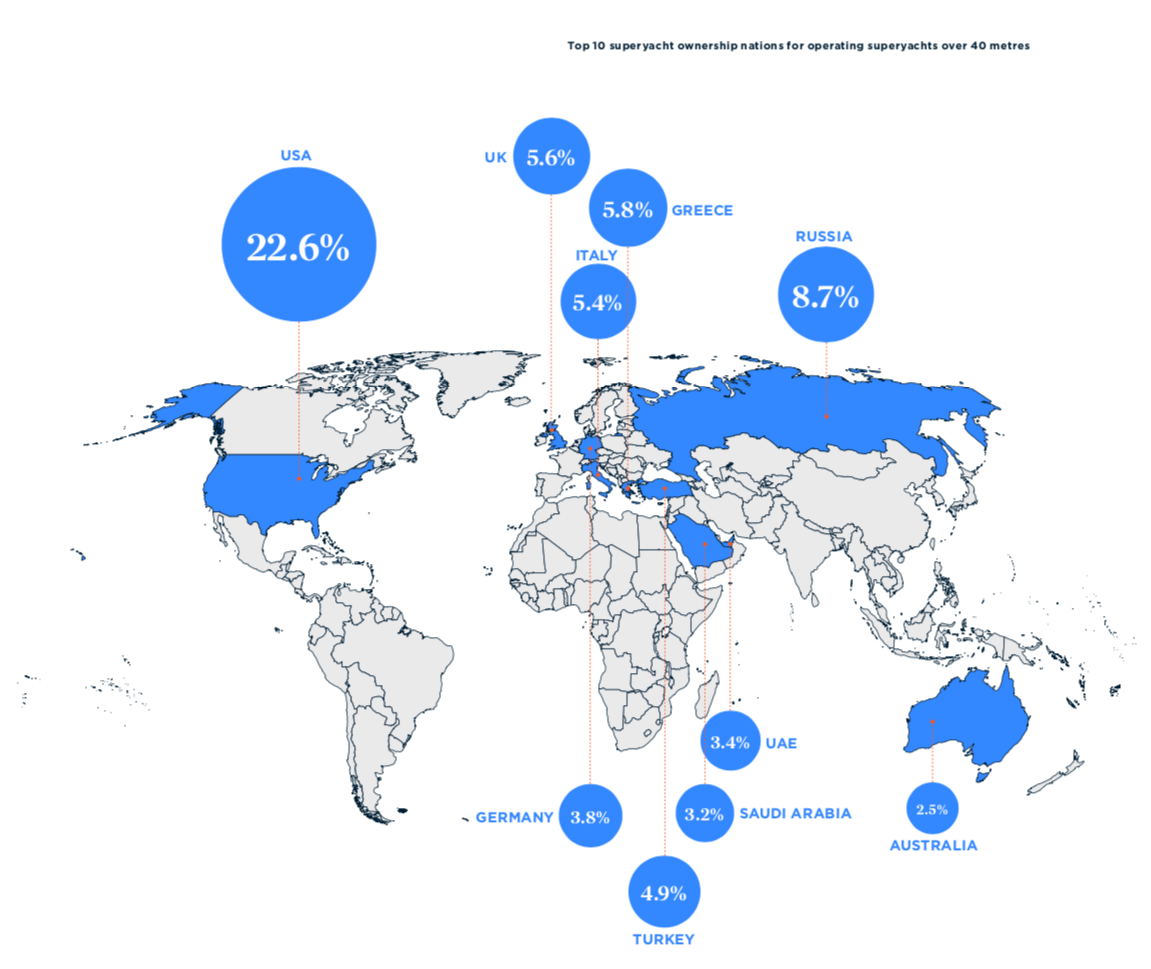 Source: SuperYacht Times
This surge might provide a remarkable opportunity for reinvention and renewed vigor for the entire industry, as agencies and owners are finding new ways to capitalize and approach the business. In this year's seminal Monaco Yacht Show, around 101 superyachts were on display, half of which are available to purchase: a great indicator of how the industry is performing right now.
"The Monaco Yacht Show is a wrap – and what an event it was! This year 101 superyachts moored in the quays of Port Hercule – it is estimated that the value of the yachts on show exceeded €3.6 billion"
It's not just about business, though. People are discovering or reviving their passion for the sea and for the uniqueness of the yachting life and its immeasurable charm.