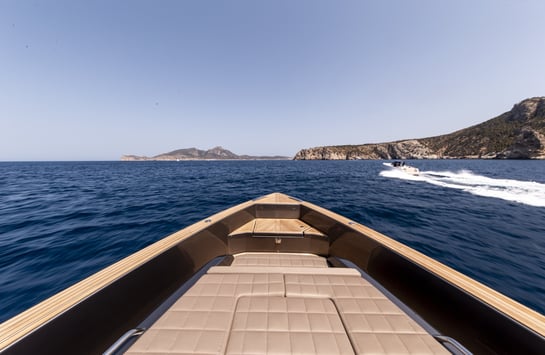 As yacht owners or charterers you're naturally accustomed to tenders and their limitations, which on occasion impinge upon your desire to relish open seas and skies without compromise. Enter chase boats. Speedily gaining popularity, they are an incredibly efficient, safe and elegant way to enjoy more options. After all, what is the utmost luxury if not freedom?
A variety of needs and wants that have evolved over time in the luxury yachting world, coupled with restrictions in tender garage capacity and crane power, are the reasons why chase boats are currently dernier cri
and
here to stay. So why might
I
need a chase boat, instead of a tender, we hear you ask?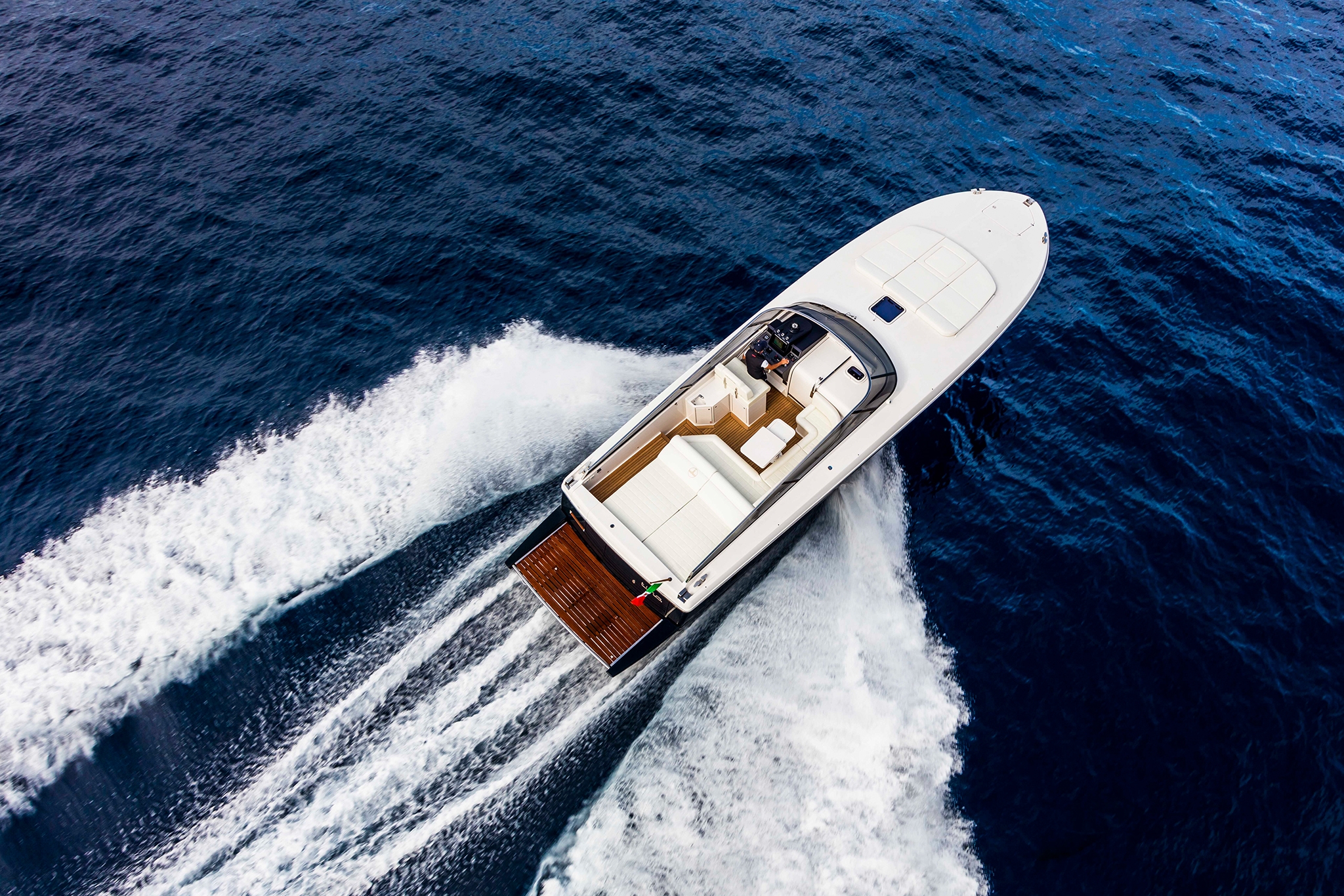 Size does matter. Whereas a 50m yacht can host a 7m tender at the most, chase boats are typically 9m to 15m and can even reach the 20m mark. Since they don't live on the main yacht, they are towed from it or follow it, with their own crew or piloted by a member of the main crew. They are highly customizable, so you can handpick the details that fulfill all your desires. Additionally, the safety of a larger vessel, especially during an occasional rough weather, is undeniable. Chase boats have incomparably better sea-faring capabilities than their smaller counterparts. They will take more people further, more smoothly and more securely. And definitely more dry.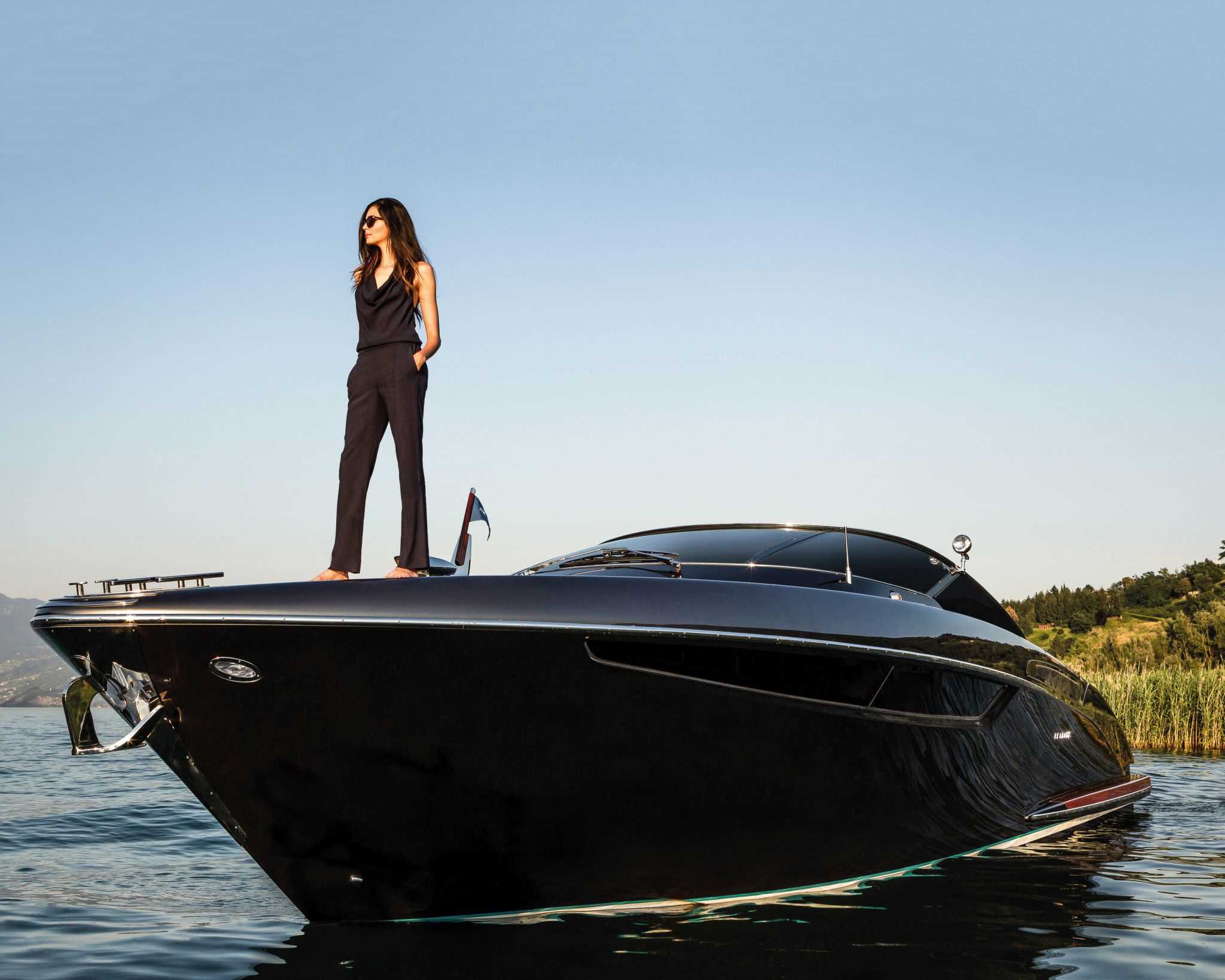 Whether you find yourself on your yacht, a resort or a villa, a chase tender provides more choices, more flexibility, more fun. You travel longer distances faster, discover more during daily trips and have the capacity for larger groups of people. Previously complicated arrangements, such as picking up an impromptu guest from another port, can be organized effortlessly and on the spot. Beach landings are a piece of cake, water toys can come aboard for fun away from the yacht, and when you get tired from the day's shenanigans, there's perfect shelter (and occasionally even accommodation for a nap). The new considerations regarding physical distancing make a chase boat an even more appealing proposition; seclusion and privacy are at your fingertips.
---
THE LIST
---
1/6 - RIVA DOLCERIVA

There are boats that tell a familiar story and boats that write an entirely new one – like the Dolceriva, whose profoundly rethought design and style open a whole new chapter for the historic Sarnico yard. Riva's latest inspiring creation is a 48' open yacht conceived for on-board living in consummate comfort. Futuristic design and all the heritage of a legendary yard come together in a single word: Dolceriva.
"In the debate between style and substance, it somehow succeeds in setting a steady course straight down the middle. And I'm not going to argue with that."
Alan Harper, Power & Motoryacht Magazine, March 3rd 2020


2/6 - PARDO 38

Since 1973, the year of its foundation, Cantiere del Pardo has been one of the word's most prestigious shipyards producing more than 4.500 high quality, comfortable performance yachts. Pardo Yachts is a stylish, highly customisable Made-in-Italy yacht, a perfect combination of power and elegance, comfort and functionality.
The Pardo 38 is a synonym for power, elegance, quality and comfort, with endless customisation possibilities.
"This boat may be the little sister of the line, but the Pardo 38 possesses all of the performance, style and charisma of her bigger siblings."
Phil Draper, Yachting Magazine, February 12, 2020
3/6 - ANVERA 48
The Anvera 48 combines an extreme simplicity of management with an excellent speed/consumption ratio. At the same time it offers the typical comfort of a bigger yacht thanks to its two wide side opening terraces and the several water toys that you can have on board. The care of every single detail is the expression of a boat completely MADE IN ITALY.
The best choice to enjoy exclusive moments at the sea.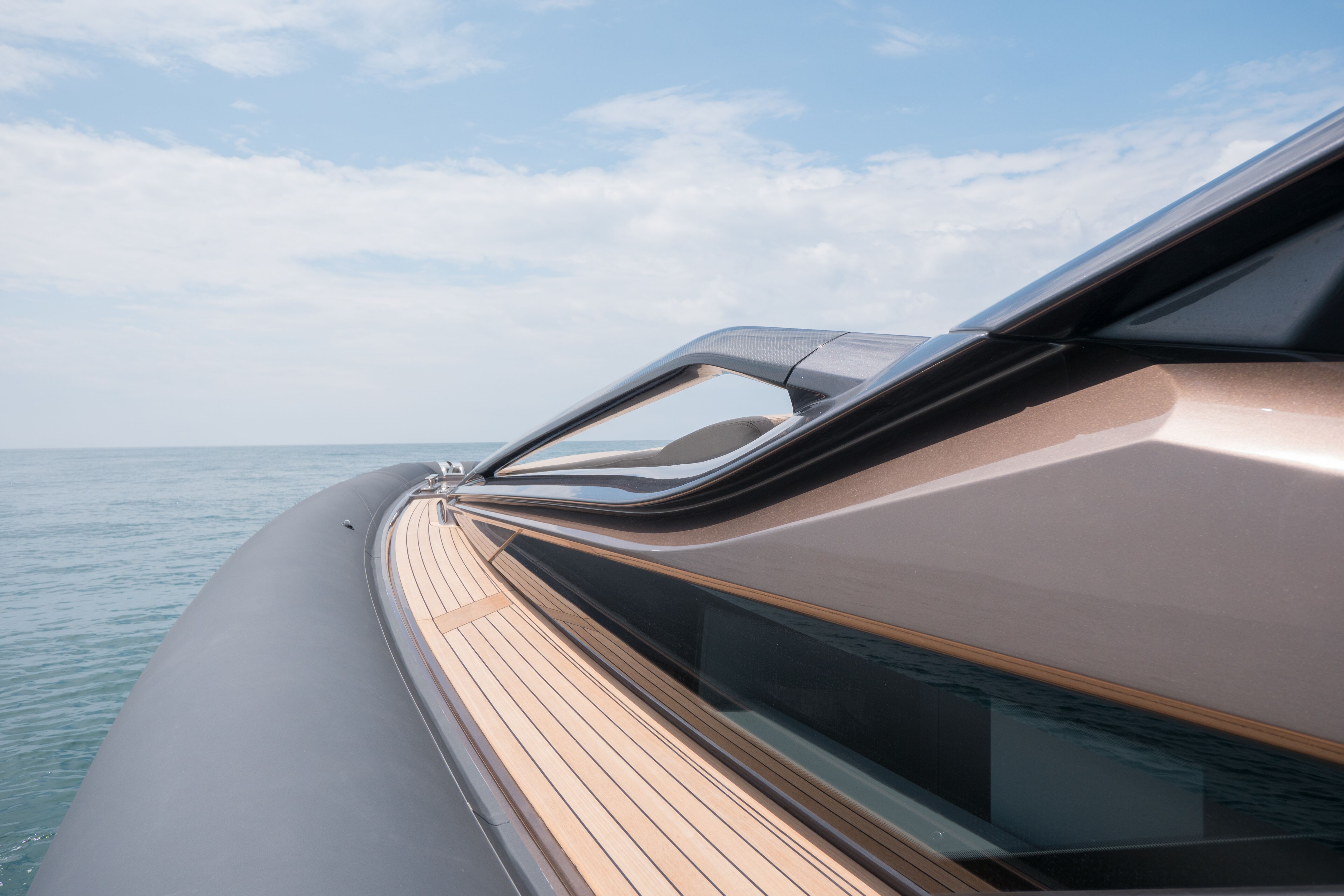 The power/weight ratio allows Anvera 48 to reach a speed of 50 knots while consuming only 3.4 litres per mile at 40 knots.

"Hitting the high seas is something that is going to appeal to many of a nautical persuasion and if you're after the finest vessel you can imagine, it's hard to look past the Anvera 48 Boat. "
Leo Davie, The Collector, August 22, 20

4/6 - APREAMARE GOZZO 35'
Apreamare's new Gozzo 35 is a new version of the traditional Gozzo Sorrentino that addresses modern-day needs. The hull is designed by Marine Design, which has already been part of the design of many successful Apreamare models. The particular feature of this new project is the possibility to transmit through either shafts (with a power from 270 hp. to 320 hp.) or stern-drives (with a power from 230 hp. to 320 hp.).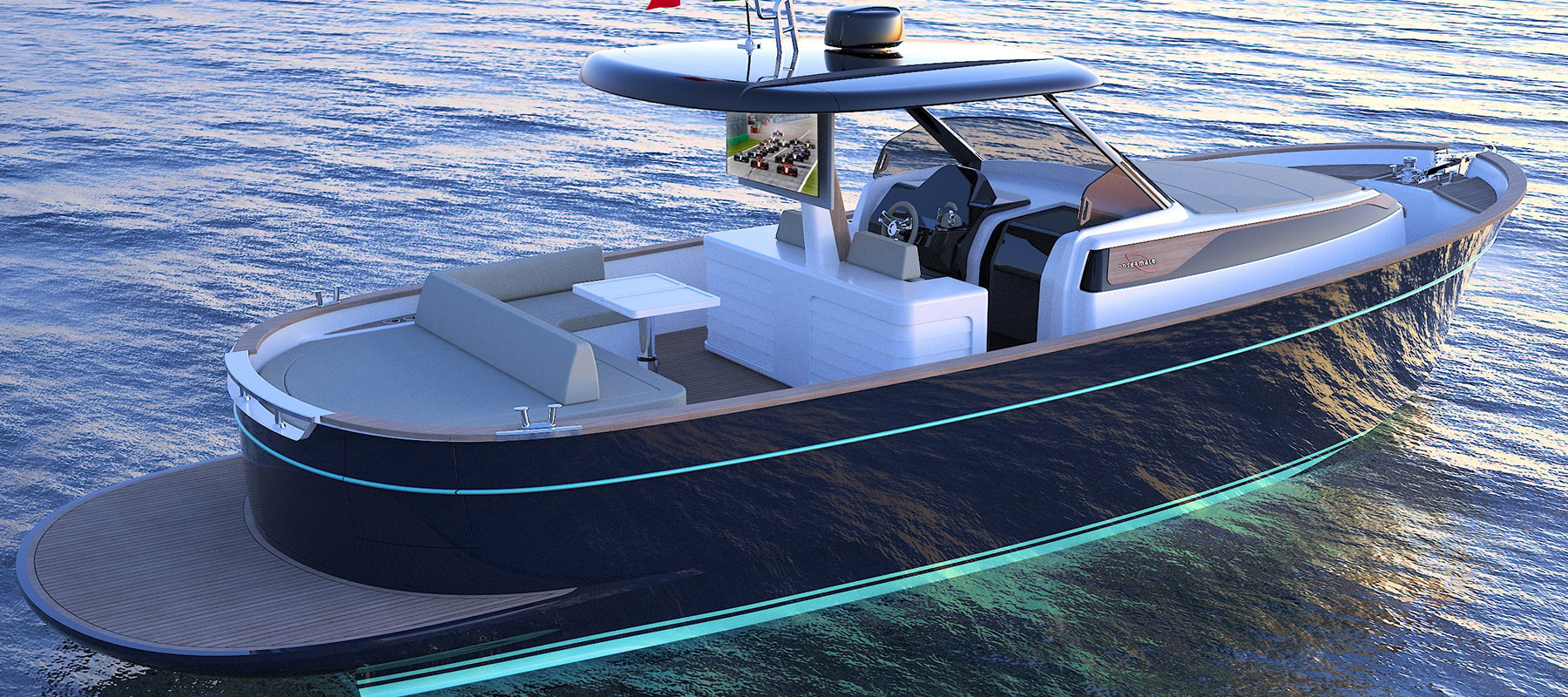 A remarkable effort has been made to develop the boat concept by the architect Marco Casali, who added value to the outdoor spaces of the deck in cooperation with Cataldo Aprea. Great attention was given to designing the hull with contemporary lines along the aesthetic standards of the Gozzo Sorrentino.
5/6 - PARDO 50'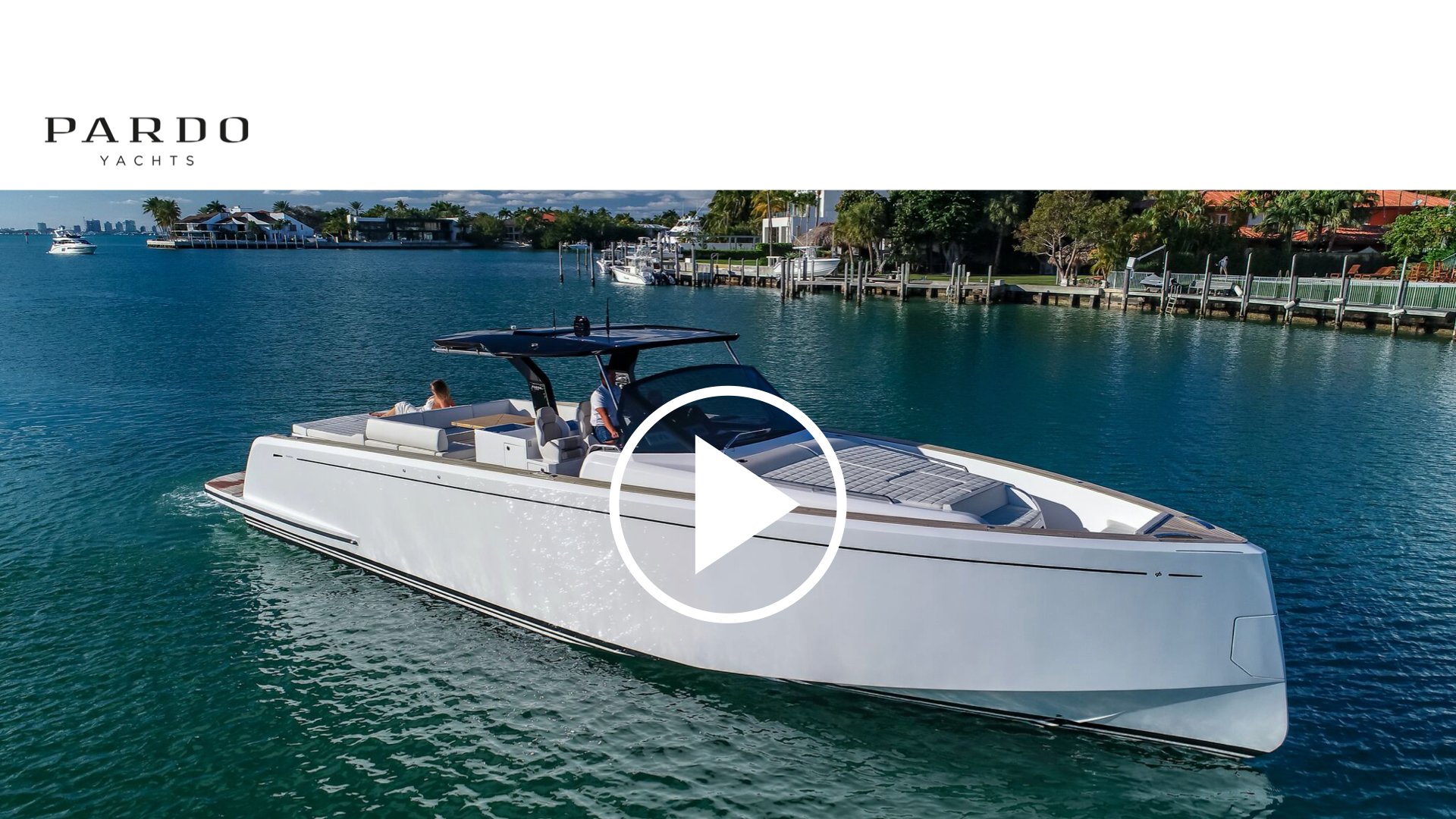 The Pardo 50 is all about performance and comfort. It's V-shaped hull has a variable geometry: 16° at stern and more than 50° in the forward section for great seakeeping and at the same time, good manoeuvrability to plane in safe and fast conditions.
The deck is walk-around, developed on a unique surface, from bow to stern. The high freeboards provide great safety for children and guests on board.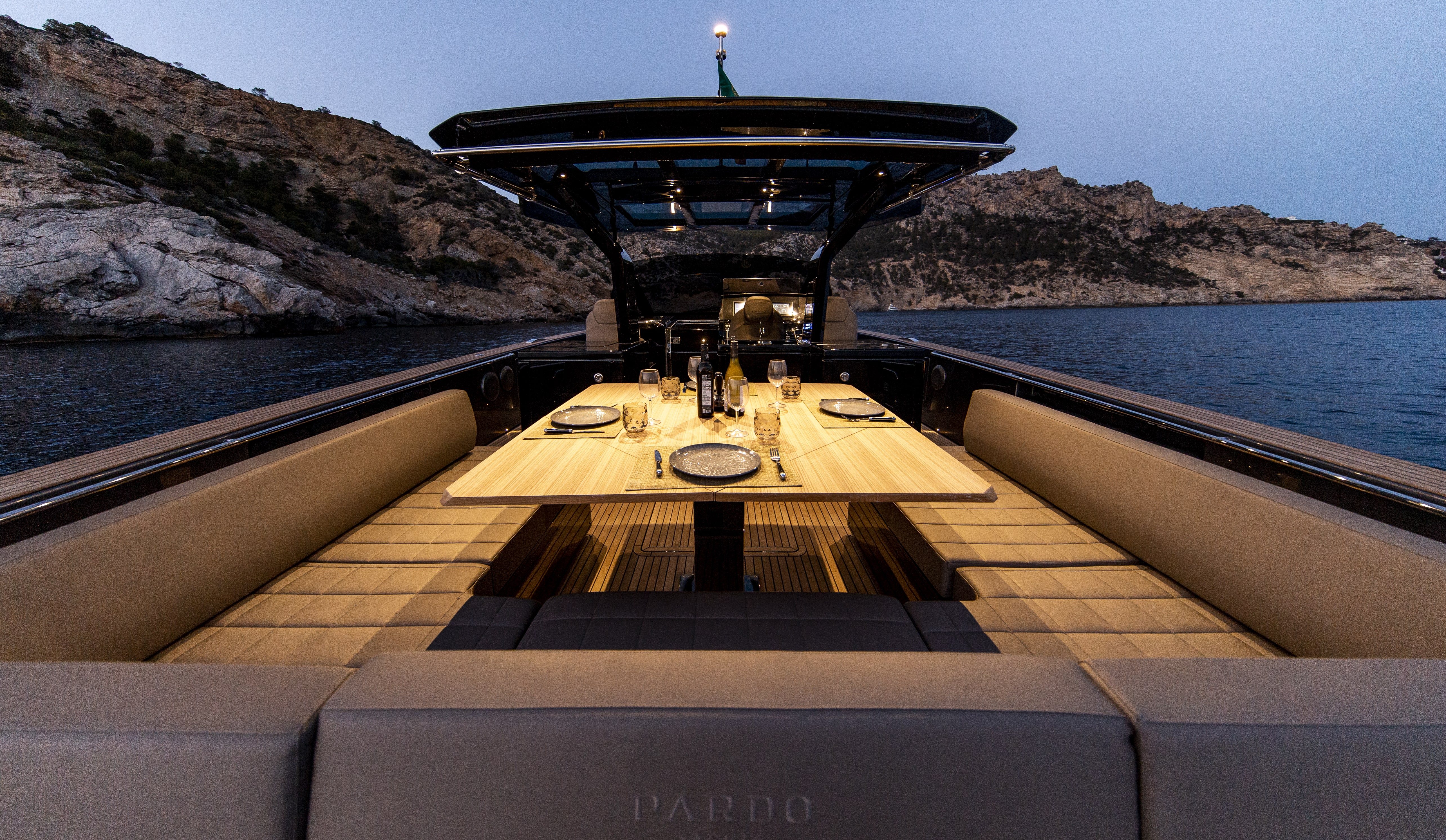 The interior is unique: The standard version includes a wide open space with two cabins and two heads. There is also the possibility to install a skipper cabin. The lines and the refined furniture are enhanced by the accurate choice of woods and the attention to details that make Pardo 50 a real excellence made in Italy.
"If you've never heard of Pardo until now, don't worry. This is a brand whose time in the limelight has only just begun."
LOUISA BECKETT, Power & Motor yacht, November 20th 2019
For over forty years Itama has made history for Italian open yachts all over the world. In its many years of activity, the shipyard has been able to build and consolidate a strong, distinctive identity at the heart of which lies outstanding engineering know-how and a unique, incomparable style.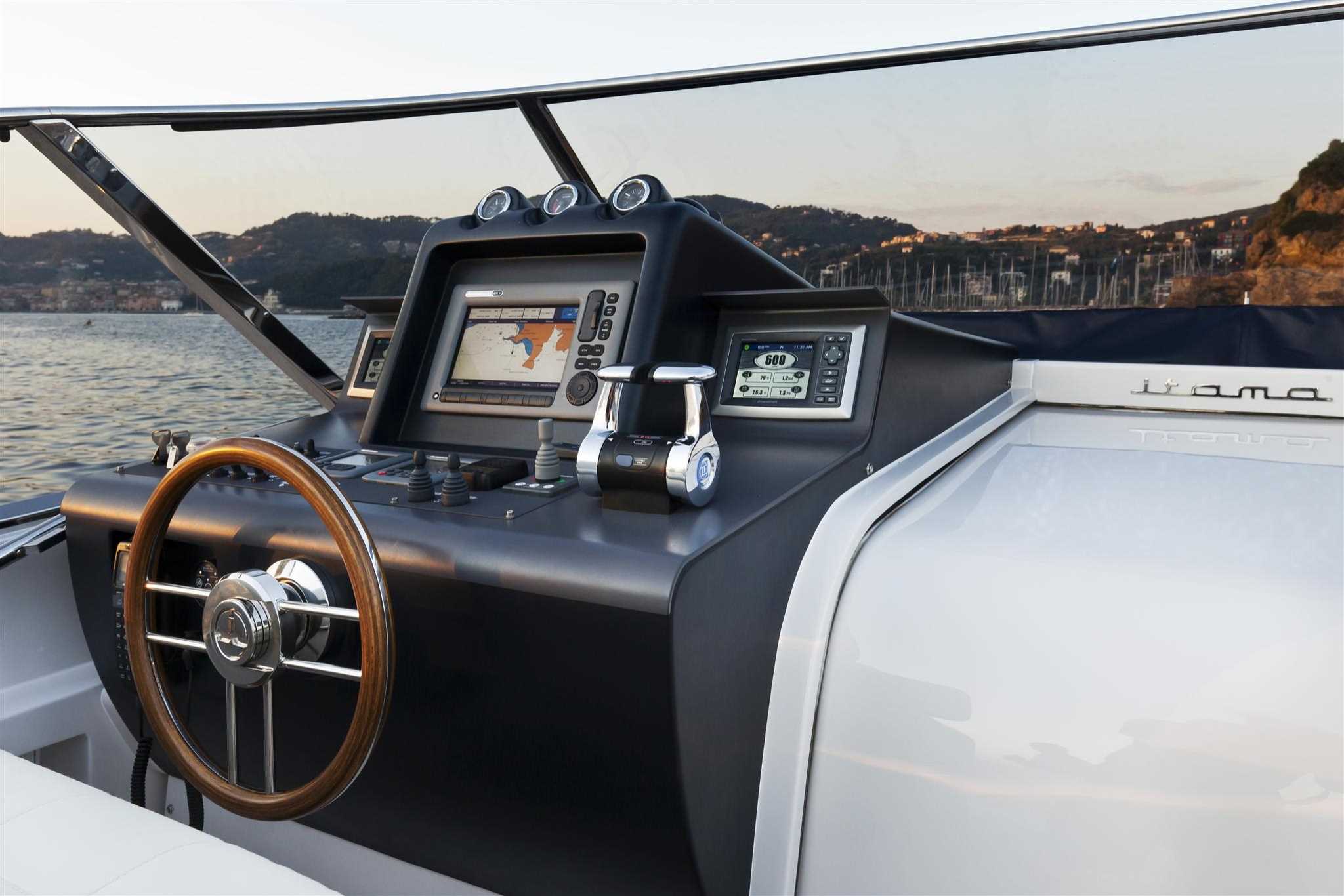 The Itama 45 S is the sporty version of its predecessor. She is heir to one of the biggest successes in the brand's history, with some 130 units produced and sold since 2005, the Itama Forty.
She makes our list not only because she offers an unbeatable ride, but also because her styling and all-time classic profile is in our opinion timeless and understated.
---
35-50FT CHASE BOATS - DECK-PLAN COMPARISON
---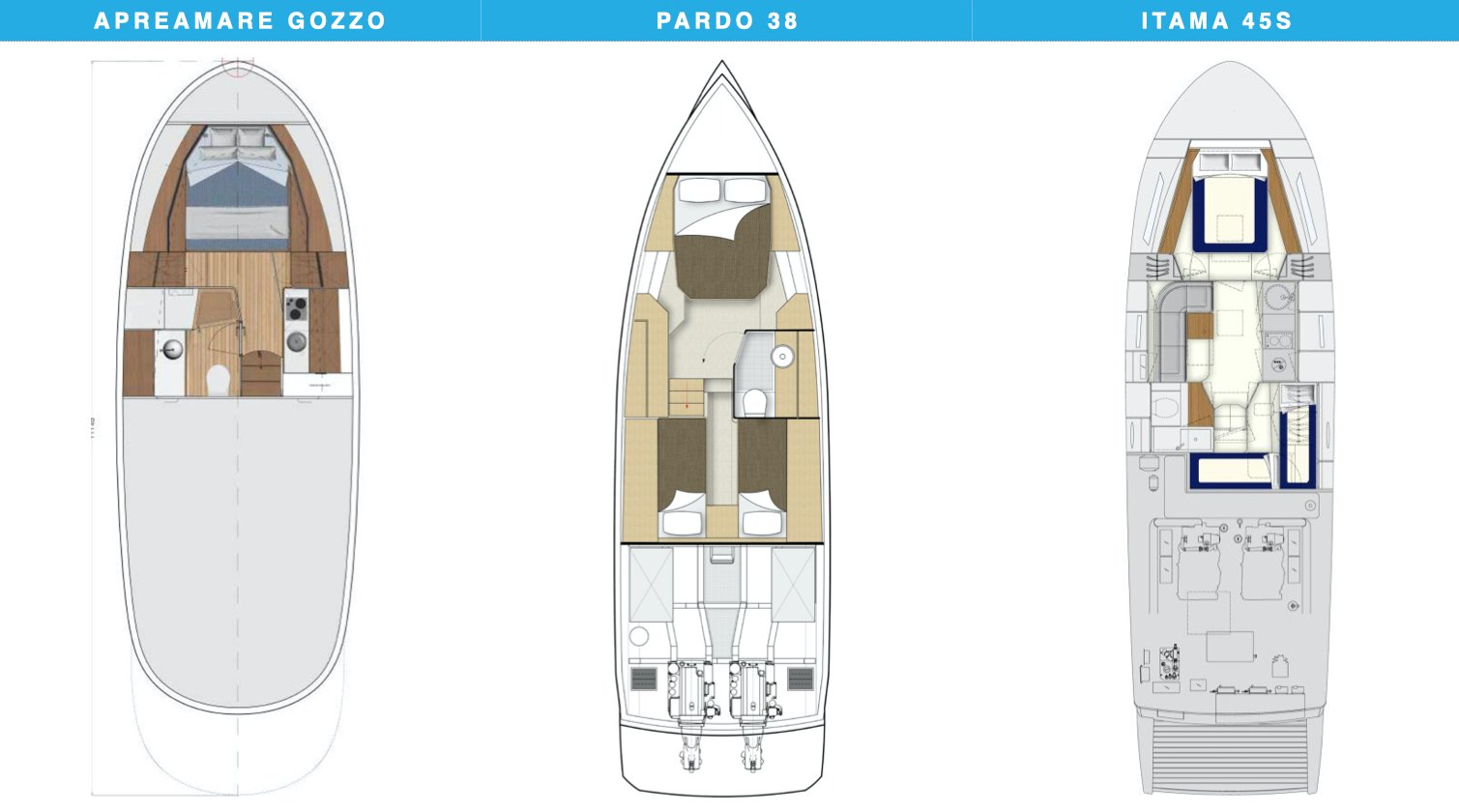 click image to enlarge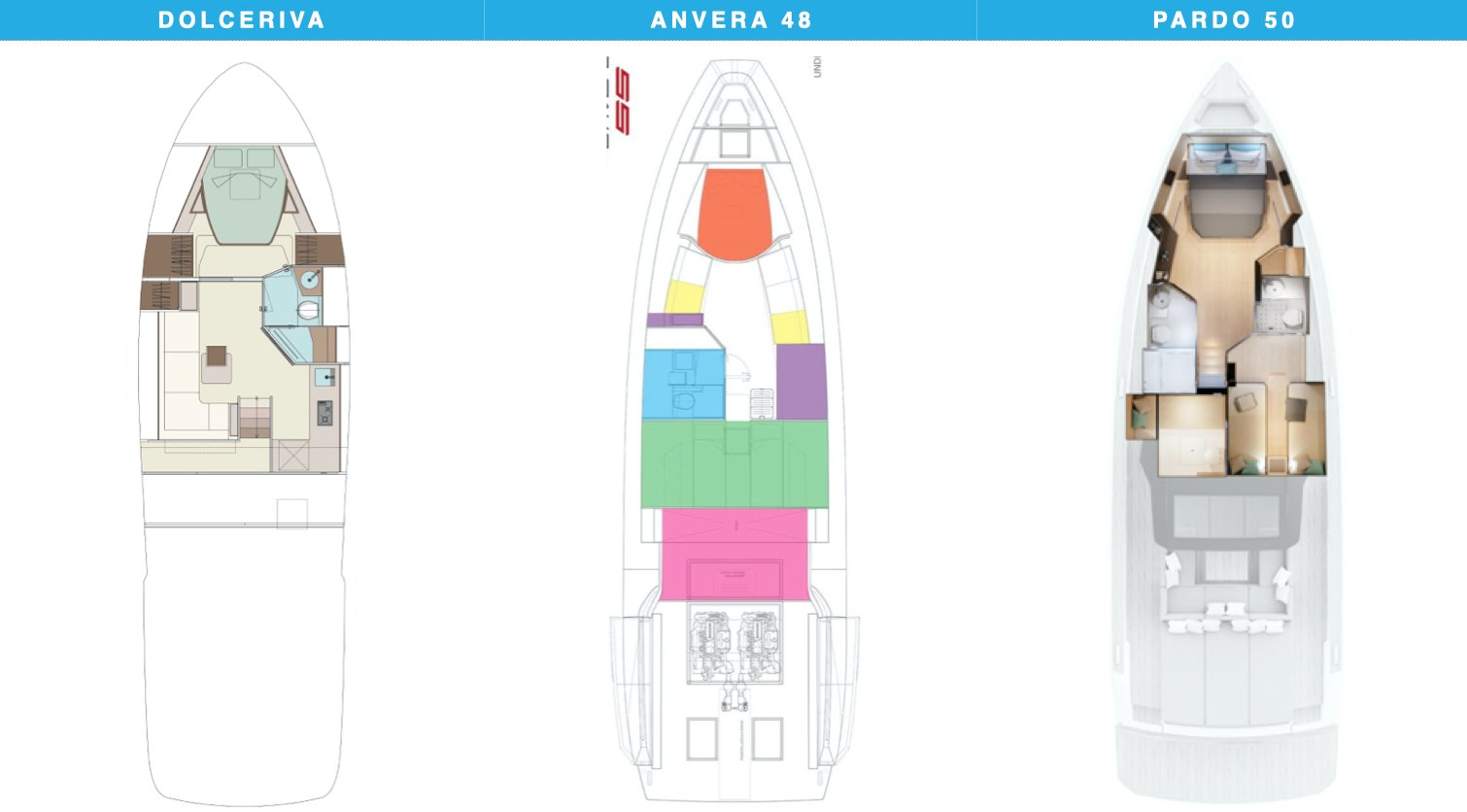 click image to enlarge
---
35-50FT CHASE BOATS - SPECS COMPARISON
---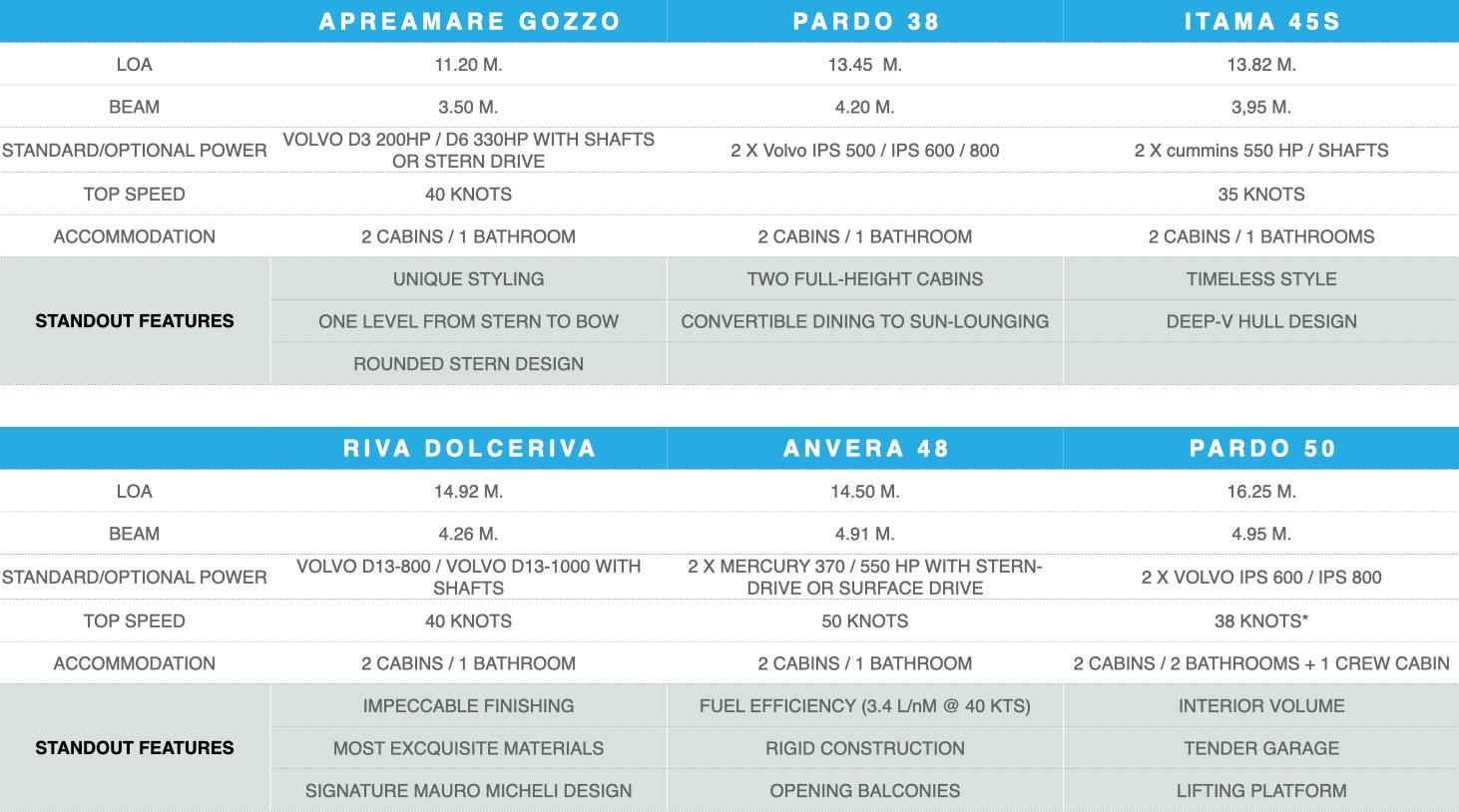 click image to enlarge
Choosing the right chase tender for your yacht is of paramount significance and it happens via thorough research and by collaborating with the right broker. Factors that need to be taked into account are its mode of transportation, the number of people that it might habitually host, its ideal size in relationship to the mother ship, its capabilities to follow without lagging behind and, of course, its storage and upkeep.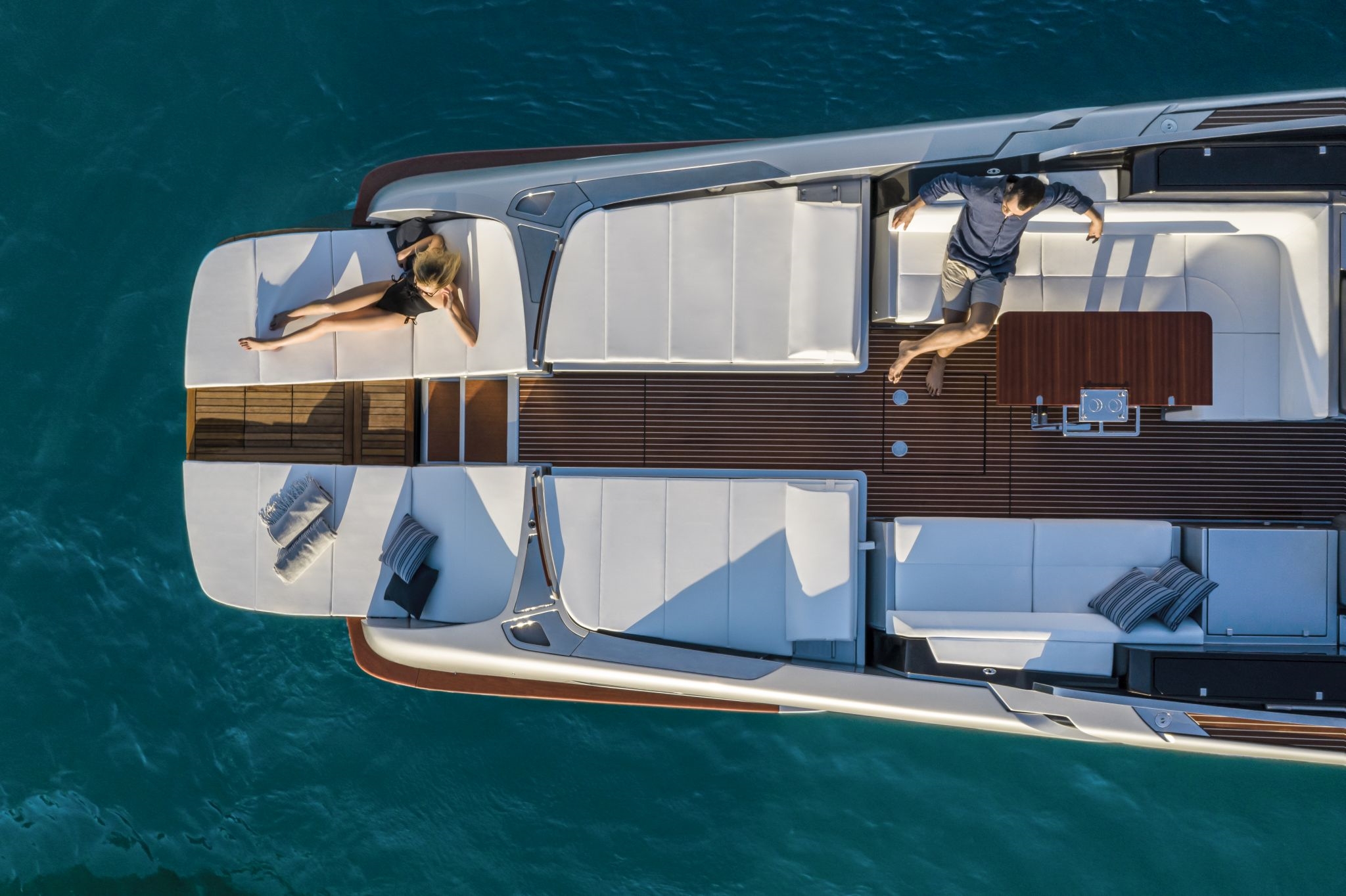 But dreams are better than logistics. So let's imagine you've decided to spend the holiday in a charming villa on the island of Paros. In all honesty, you miss yacht life, plus your best friends just landed in Mykonos. A chase boat will take you there swiftly to catch a sunset aperitif together and get you back safe, even if an August meltemi makes some waves. Or let's imagine that you've secured a coveted berth in the Spetses harbor and wish to spend some days there. Your chase boat will take you away from the bustle, to secluded, magical spots, such as Zogeria, while you never have to worry about losing that valuable place.
In other words, you're free.
---
35-50FT CHASE BOATS - PRICING COMPARISON
---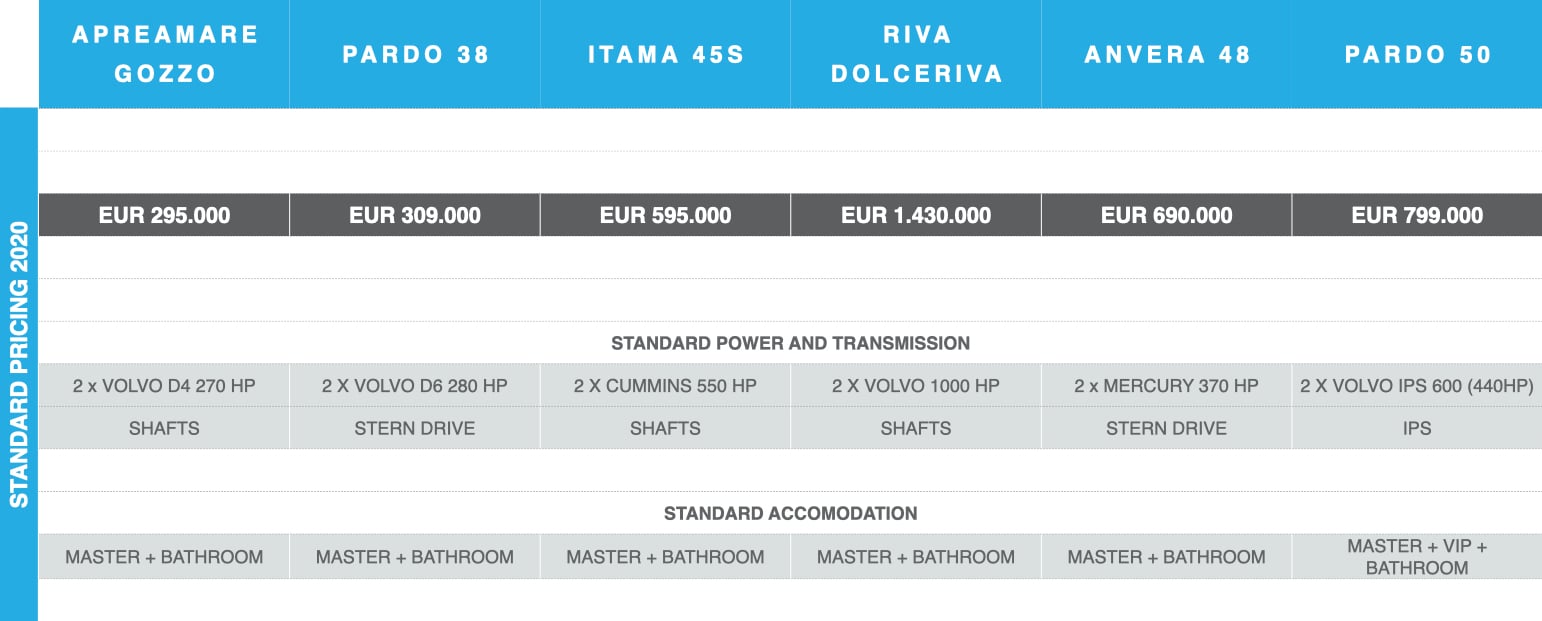 click image to enlarge