The first Marine propulsion systems in the world were sails and oars. The simplest version of the oar was used for the first time in human history in Egyptian boats during the 4th millennium BCE, while ancient Egyptian sails are first depicted around 3200 BCE. Around the same time, Sumerian sailing boats have been discovered to traverse lengthy sea trading routes. Let's not forget that even the discovery of America happened on magnificent sailboats, able to cross oceans in swift speeds. The first mechanical marine propulsion system was the steam engine, introduced in the early 19th century. Since then, boats have come a long way.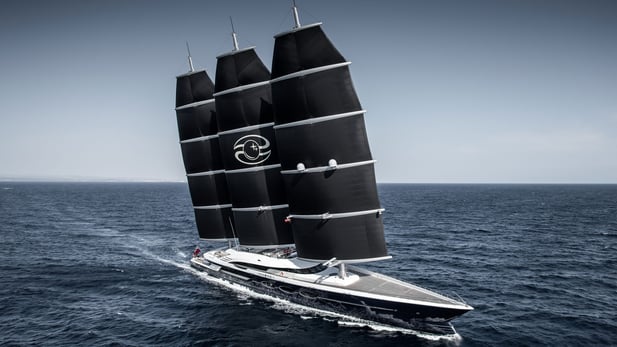 In so many words, a marine propulsion system is the mechanism employed to generate the thrust that moves a boat across water. Machine horsepower is turned into movement, so that humans can travel on oceans, rivers and lakes, in a process that is almost magic, almost romance and a lot of science.
In today's yachting world, there is a plethora of propulsion systems and drives to choose from. Each system inevitably comes with its distinct advantages and disadvantages and, to navigate these technical waters, you should start with figuring out what you want from your yacht and your yachting experience. And with a little help from us.
INBOARD DRIVES – The Classics
The most traditional and utilised type of propulsion -and a very reliable one at that- is a system of Inboard drives, both Straight shaft inboards and V-Drive inboards. With the first, you get a forward-facing engine connected to a transmission and a driveshaft exiting straight out of the bottom of the boat. The fact that the motor is placed in a central location in a yacht's engine room makes for a smoother plane and less bow rise. The simple setup guarantees low maintenance needs, although in some instances placing the engines forward may reduce potential cabin space. With a V-Drive inboard, the cabin space problem is improved, as the rear-facing motors re-direct the drive shaft towards the back. It's a bit weightier in the rear, but it's an excellent choice for cruising motor-yachts with generous interiors. Shaft-driven propulsion, due its inclined position, can be less efficient than other forms of propulsion, as it is the only system in which the propeller thrusts water at an angle. Be that as it may, a straight-line shaft with conventional propellers still remains the most efficient propulsion for slow to medium speeds, and is used almost exclusively on displacement speedboats. Ultimately, inboard drives are a traditional, straightforward and easy to manufacture and maintain system, which has proven itself in millions of applications.
JET DRIVES – The Speeders
Jet Drives are propulsion systems for speed-loving boats, able to handle a lot of horsepower and high torque and also found frequently in runabouts and tenders. The placement of the drives at the back -and not the bottom- of the boat, hence the absence of fixed points in the water, minimizes drag, resulting in increased capacity for speed (and fun). The impeller, spinning faster than a conventional propeller, ensures not just swiftness, but smooth rides with minimum vibrations, while the placement of the drives provides a shallow draft and more interior space.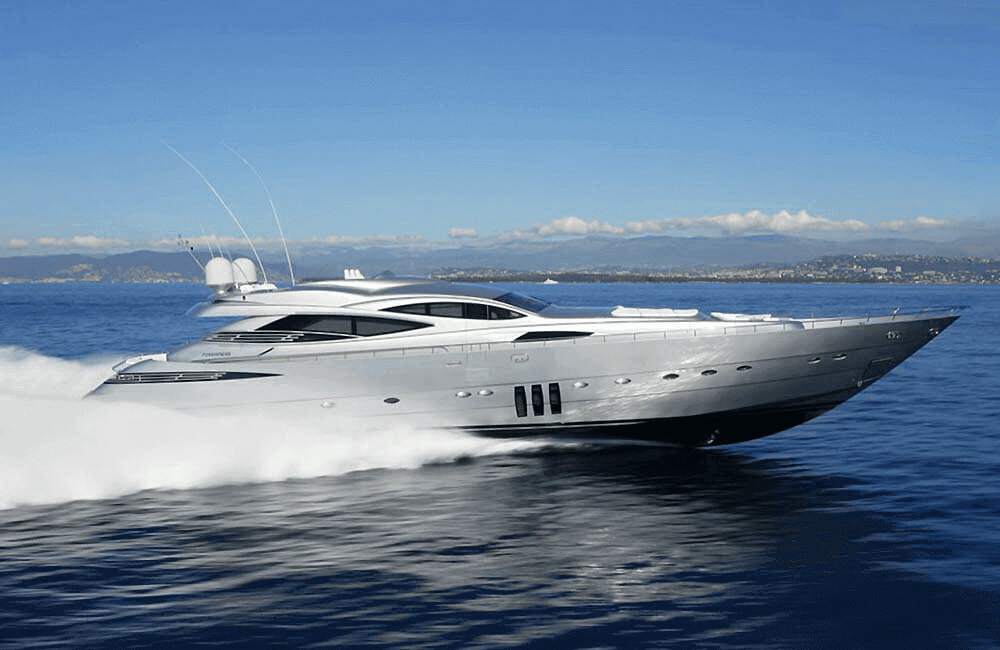 In the end, there are various advantages that come with jet drives and some drawbacks. There is an increase in maintenance costs because of the system's sophistication and plethora of moving parts, and they are heavily dependent on the manufacturer for parts (and definitely cause a headache if the manufacturer closes down). They might be super fun when spinning around in Porto Cervo, Ibiza or Mykonos, but not an ideal choice if cruising in remote areas. There is also possibility jet drives may become less manoeuvrable and responsive at low speeds. But who cares about low speeds, anyway?
SURFACE DRIVES – The Performers
Surface drives are functionally similar to jet drives, as the propulsion system again comes out of the yacht's transom instead of the bottom. With surface drives, however, the propeller is located on the outside of the boat and its top half is out of the water while spinning.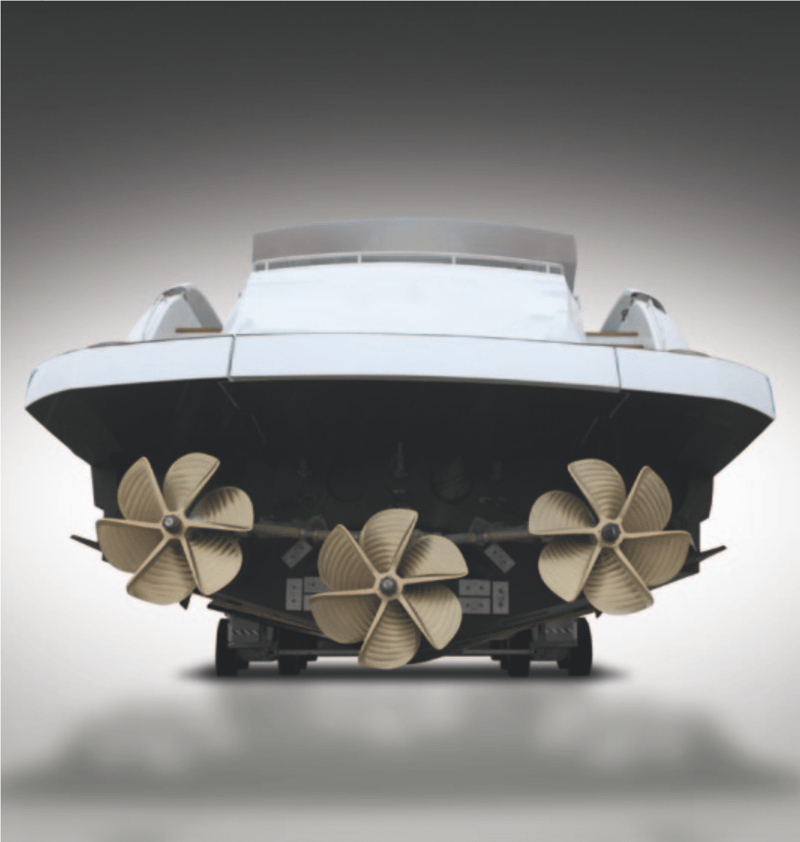 In 2010 Pershing first implemented an evolution to previous installations of surface drives on large craft, with the introduction of its first 3-engine powered surface drives.
This noteworthy difference makes surface-driven boats excellent to handle, reduces the damaging effects of propeller cavitation and ensures your vessel doesn't go unnoticed, by sporting a striking rooster tail! There's an increased cost of maintenance with surface drives, as their many parts require systematic service and also an occasional possibility the vessel may go out of plane at higher speeds compared to other propulsion methods. They are a lot of fun in fast boats and in flat water, but not at their most efficient in rough seas. Yet surface drives…fly on the water. Their performance is excellent; they boast fuel efficiency at higher speeds (usually above 30 knots), an abundance of interior cabin space and a shallow draft. It's no coincidence that Pershing's almost entire line-up, sleek and exciting, consists of surface-driven yachts.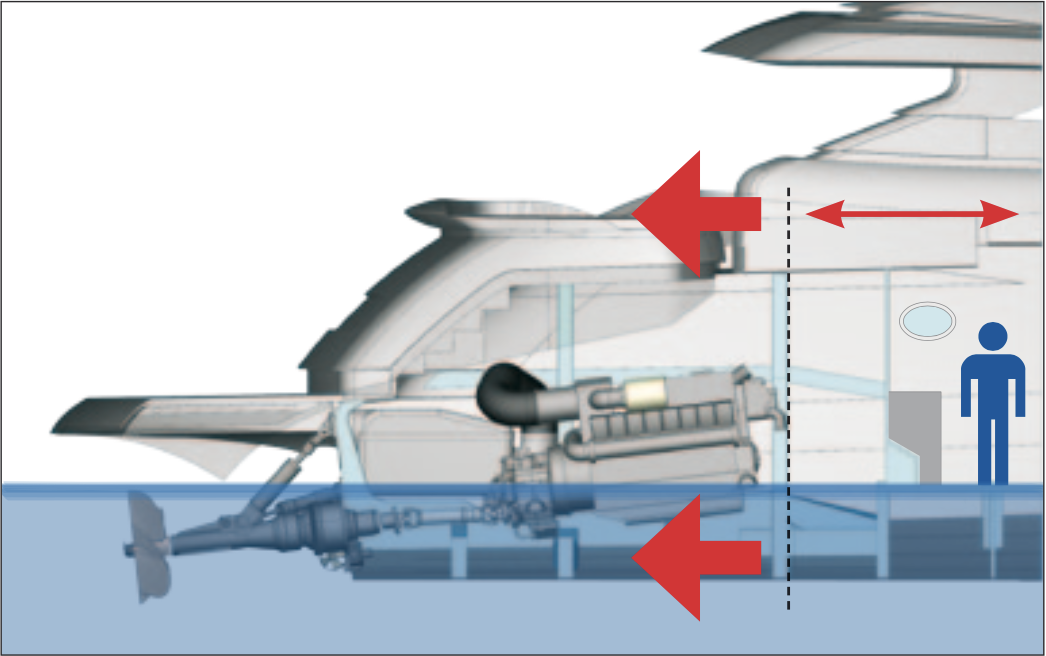 A depiction of how high-performance propulsion systems like surface drives have an effect on the yacht's accommodation arrangement
POD DRIVES – The Cutting-Edge
A relatively new addition to the world of propulsion systems, Pod drives were introduced to the pleasure yacht market in 2006 and are successfully used for yachts from 10 to 35 meters and engines from 300hp to about 1100hp; multiple installations of more than two motors can also be used. With a wealth of digital capabilities, the pod drives are often discussed as the new generation of marine propulsion systems. Each pod has two counter-rotating propellers that direct the thrust; no more shafts, struts, and rudders.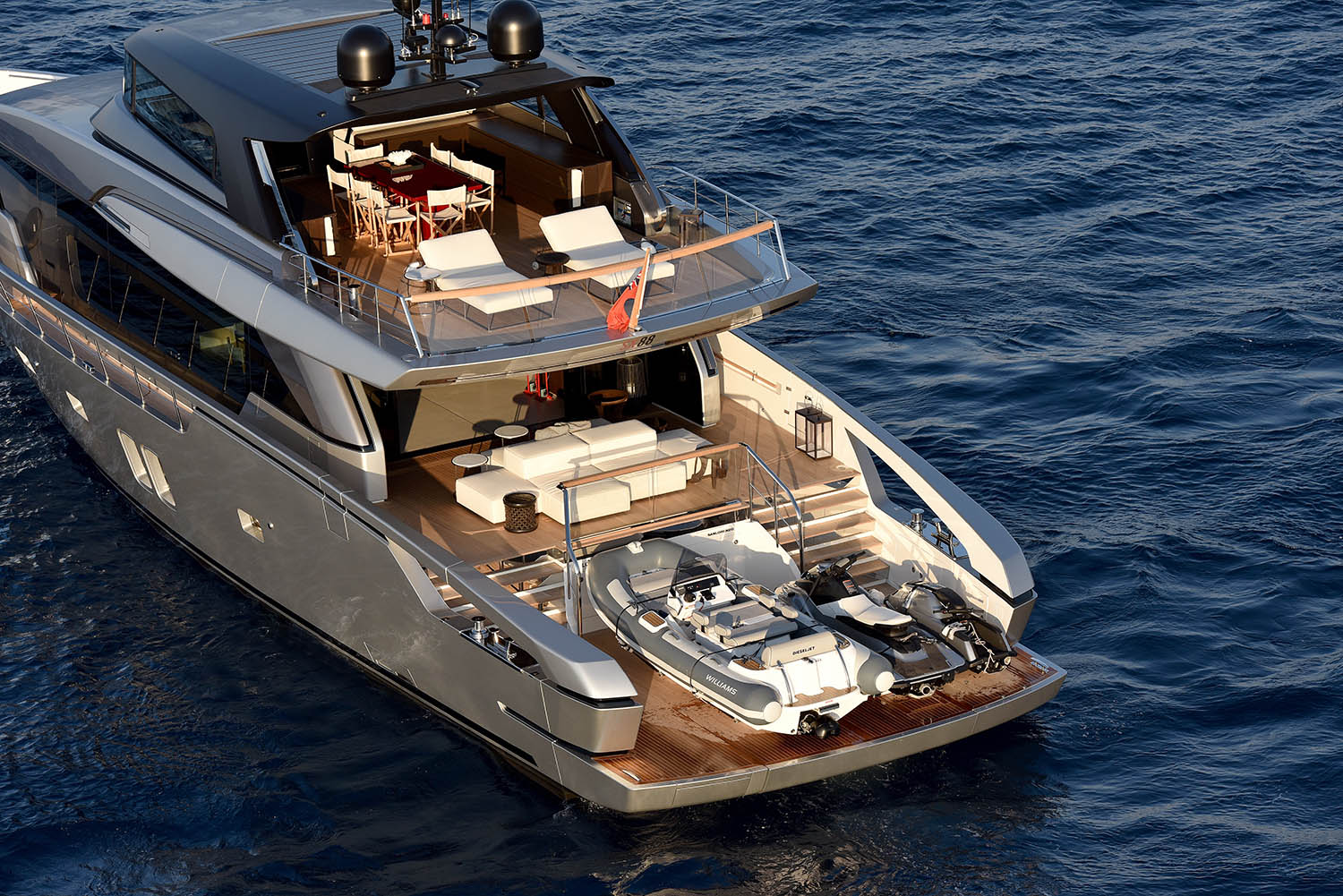 Sanlorenzo has implemented IPS propulsion on larger vessels of its recently introduced SX line (pictured above the transom of the SX88) in order to increase fuel efficiency and maximise interior volume and sea-level deckspace for tender storage and bathing.
They are an exceptional, fuel-saving system (10%-30% less consumption than inboards), offering more cabin space for the same horsepower, great steering and handling at all speeds, as well as reduced vibrations and noise, since the exhaust is let out underwater. Advanced features of the pod drives include Joystick docking, which makes manoeuvring a…joy, especially in close quarters and difficult docking conditions and Position keeping, which holds a vessel at a fixed location via GPS, regardless of weather and sea conditions. Such powerful mechanical and computer systems are naturally more expensive than traditional drives and may increase the cost of a boat, both when purchased and due to higher maintenance costs. They need to be maintained by expert and certified technicians, so that's something to keep in mind when thinking about maintenance and when cruising to remote areas. They are perfect for the Cote d' Azur and the Greek islands, but you don't wouldn't want to be looking for Pod drive spares in the Bahamas.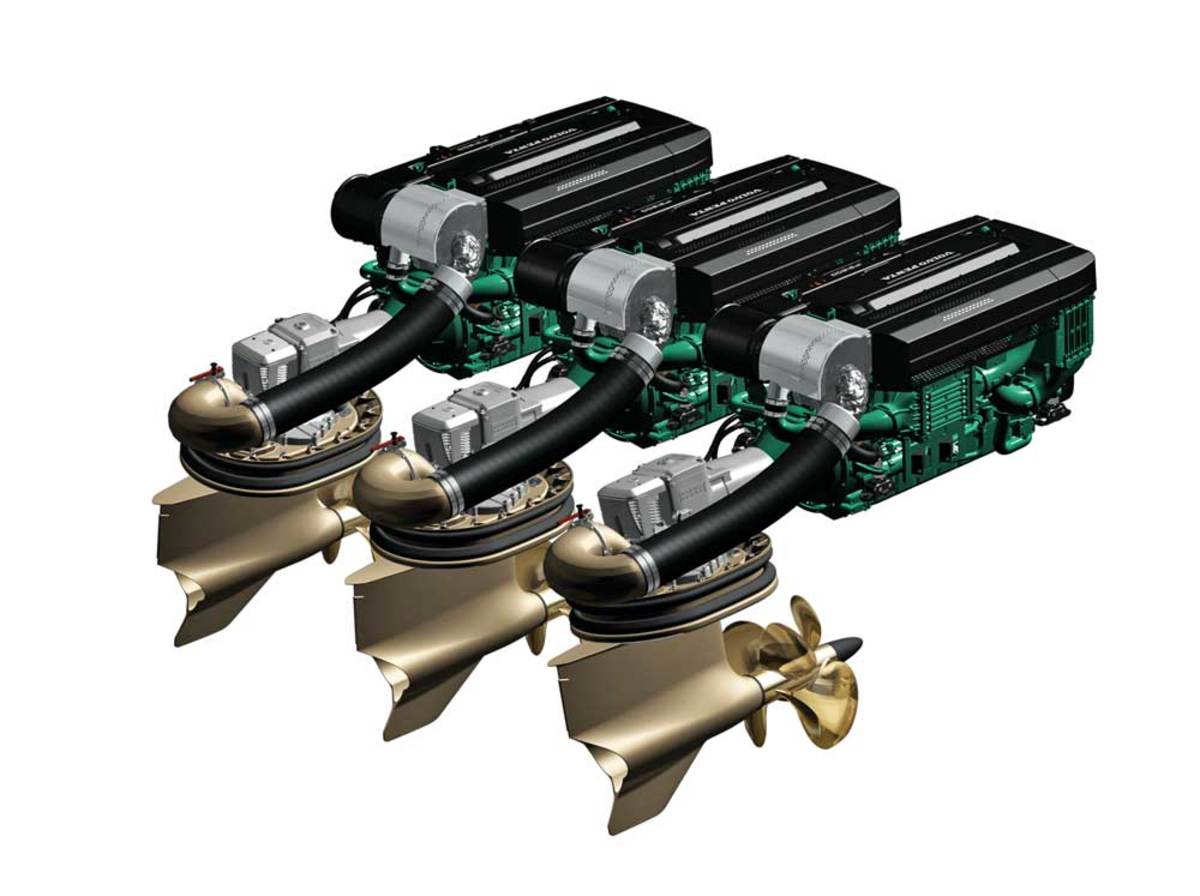 STERN DRIVES – The Smooth Ones
When we are talking about boats less than 15 meters in length, destined to travel on weekends and quieter waters, Stern drives are the most popular choice. Also referred to as inboard/outboard drives (I/O), they capably combine inboard power with outboard drive; the motor is located forward of the transom and there are no protruding powerheads. Stern-driven boats are efficient and sensible: they are effortlessly removed from the water, require minimal storage space and their simple engineering makes them easy to service, even if maintenance costs are occasionally steep due to moving parts and the many components systematically exposed to water. Stern-driven boats may be practical, but no one can accuse them of being boring!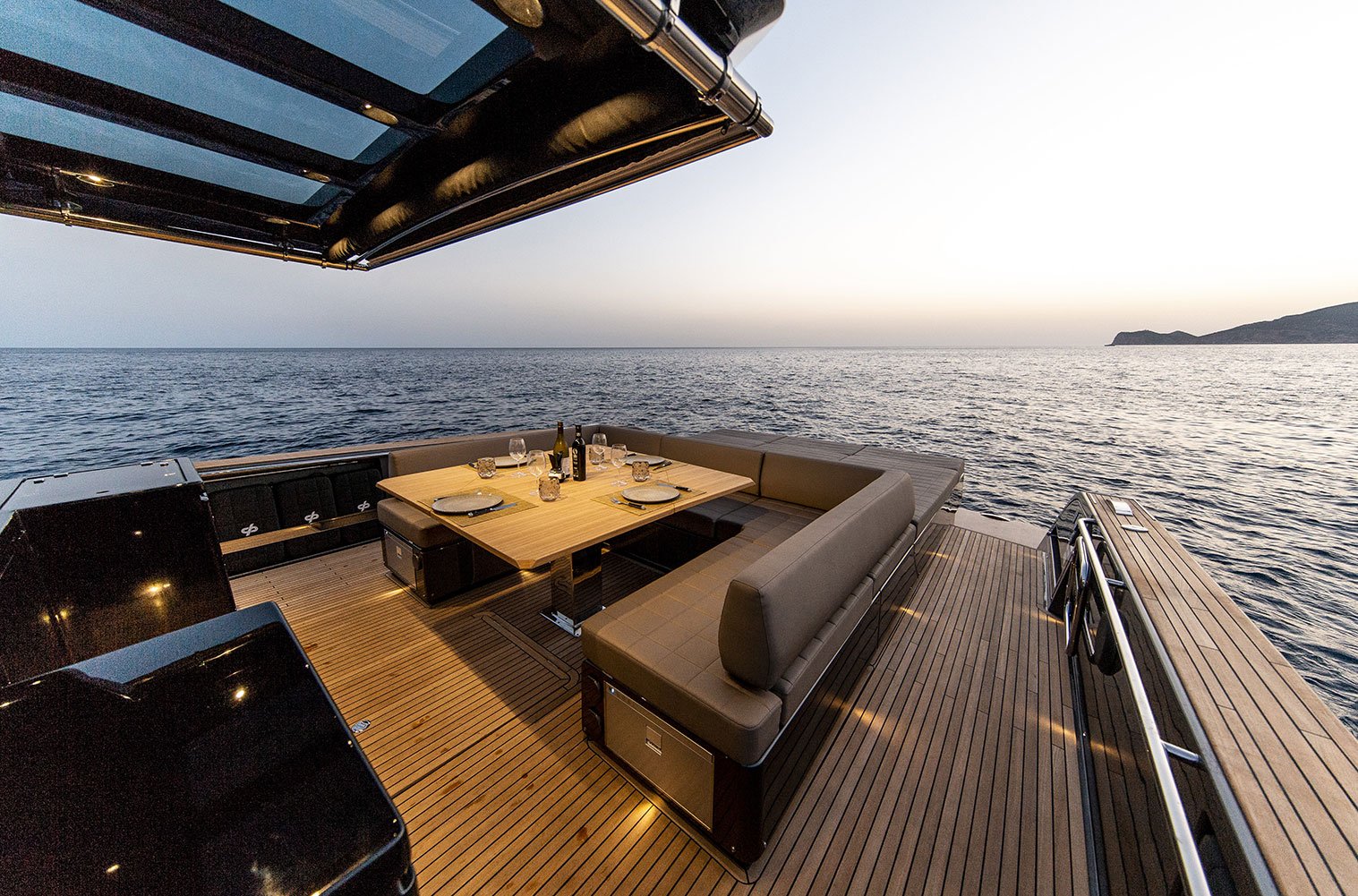 Pardo Yachts has been installing both stern-drive and IPS systems with Volvo on its 38 and 43/50 models respectively
OUTBOARD MOTORS – The Capable Ones
A classic propulsion system for small boats, the outboard was invented in 1870 by French electrical engineer Gustave Trouvé. It consists of a self-contained unit that encompasses the engine, the propeller and the gearbox and is affixed to the outside of the transom. Outboard motors are principally used in inflatable (rib boats) up to 15 meters in length and in plastic (GRP) vessels of similar size. In recent years, however, multiple outboard motors are also utilized in larger crafts (be careful of overpowering, though!).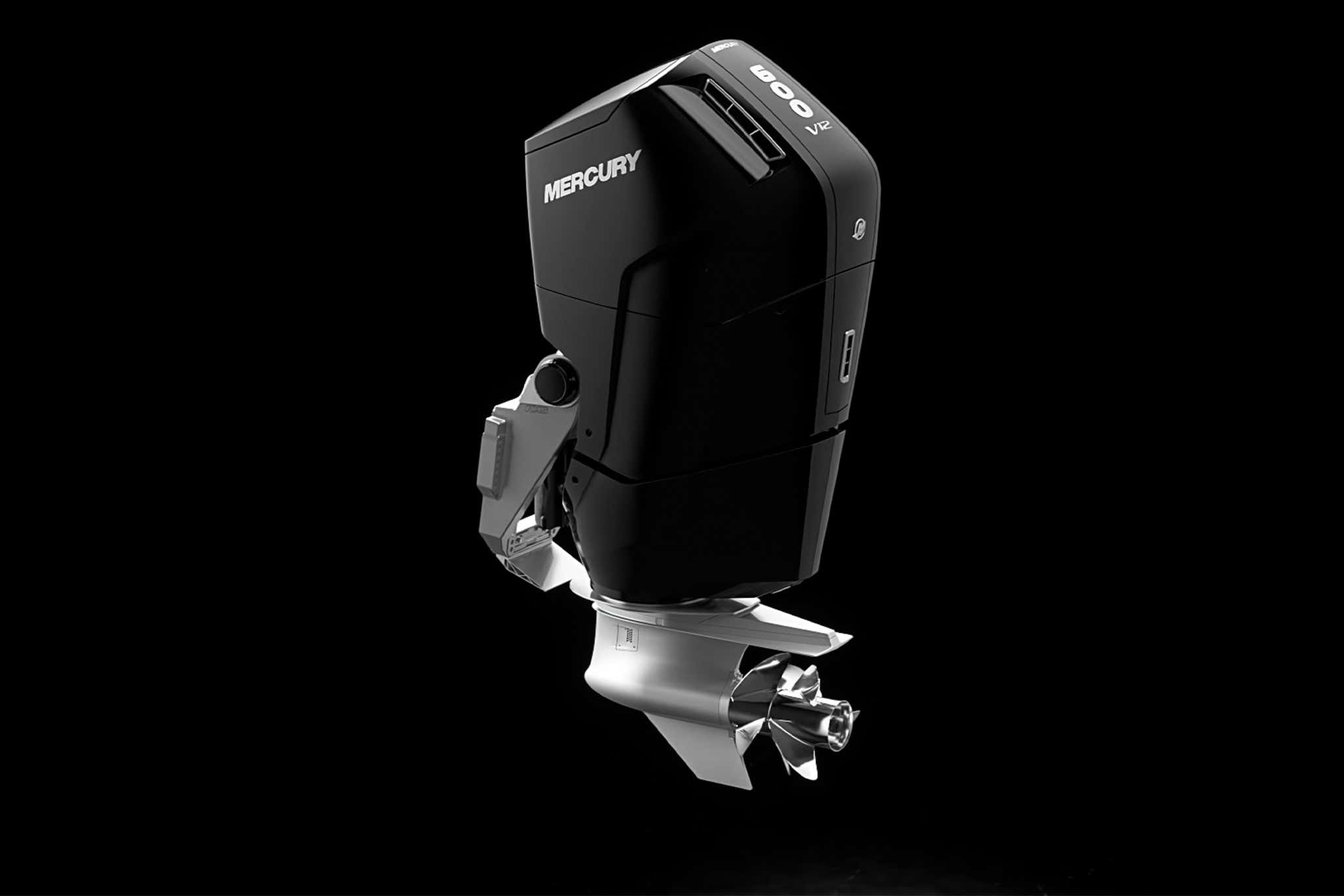 Mercury Marine's V12 600HP outboard motor is the latest addition to an ever-growing range of options available for outboard propulsion
Outboard motors are capable, reliable and easy to deal with. They take up little space from the rest of the vessel, although they do take up space in the stern and, as they are "hung" from the transom, they prevent the installation of a swim platform and make access to the water more cumbersome. They are easy to maintain, remove and replace and have a small draft. They consume little fuel, but as they mostly use petrol (there is currently only one diesel exception), one needs to be very careful of the fire risk posed by petrol storage. In recent years, the horsepower of outboards may reach 600 hp, such as in the brand new 600 hp Mercury outboards that can be installed in 2,3 or 4 engine configurations, making them suitable for larger boats, even though they still use petrol as fuel. Always be careful of overpowering, though!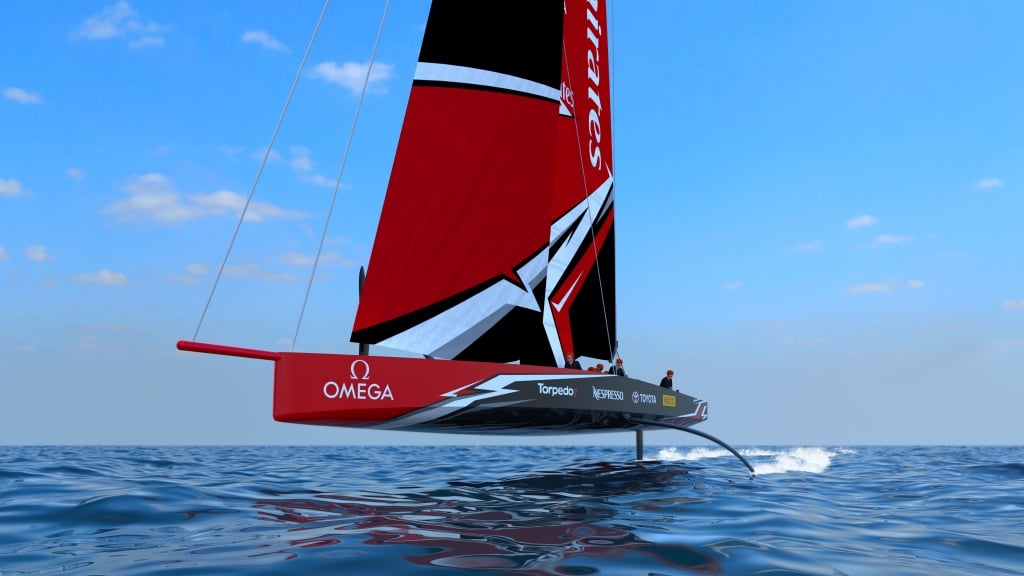 The America's Cup latest AC75 sailing yachts are consistently recording speeds over 50 knots
WIND - Sky is the limit!
Still, after all this it is important to remember that even with the simplest of means, when the human sets their mind to something they can achieve extraordinary results!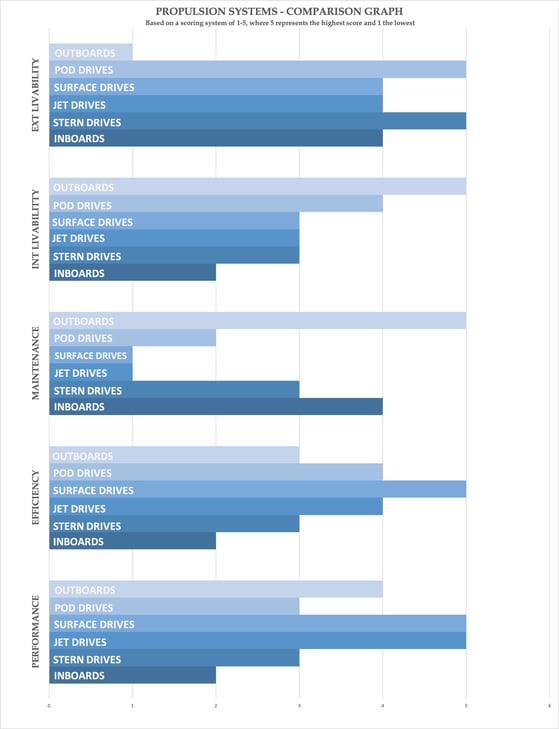 SOURCES
https://en.wikipedia.org/wiki/Sterndrive, https://en.wikipedia.org/wiki/Sail#:~:text=Sails%20from%20ancient%20Egypt%20are,away%20as%20the%20Indus%20valley., https://www.boatinternational.com/yachts/yacht-design/azimuthing-drive-propulsion-systems--741, https://yachtsinvest.com/faq/marine-propulsion-systems/, https://www.boatus.com/expert-advice/expert-advice-archive/2018/june/boat-propulsion-systems , https://www.jimmyrogersyachtbroker.com/the-different-types-of-yacht-propulsion-benefits-and-drawbacks/, https://www.nauticexpo.com/boat-manufacturer/electric-pod-drive-22263.html, https://www.boats.com/boat-buyers-guide/pod-drives-volvo-penta-ips-cummins-zeus-zf-marine-cat/#:~:text=Pod%20drives%20are%20a%20marine,the%20bottom%20of%20the%20boat. , https://boatbuy.com.au/ips-vs-shaft-the-truth-about-pod-drives/