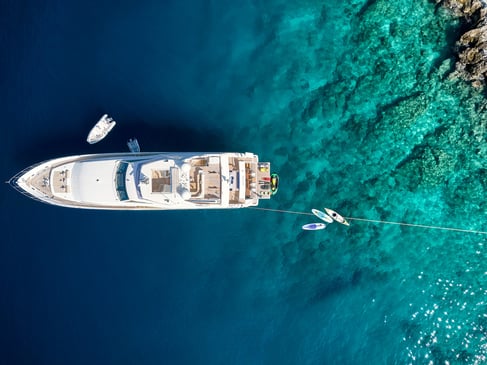 One of the things we take pride in at EKKA YACHTS is the experience we have acquired in providing tailored made solutions and tips while guiding our charter clients through the process of chartering a yacht.
If you are considering the seclusion, comfort, and luxury a charter yacht provides, we want to make sure you know what it's all about. Here you'll find a practical guide to the delightful prospect of vacationing on a charter yacht.
THE CHARTER BROKER
Your expert guide in all things chartering
The first –and probably the most important– step to the journey of chartering is contacting an experienced and trustworthy charter broker, with access to an extensive network and charter fleet. This is an expert who has all the inside information and who will recommend yachts after having inspected them and interviewed their crews. The broker should also be knowledgeable of local regulations and able to advise you depending on the preferred itinerary. Aside from handling all the necessary paperwork such as contracts and guest preference forms, an accomplished charter broker will also steer you towards the best vessel for your vacation so that you only experience the fun part: planning your dream break.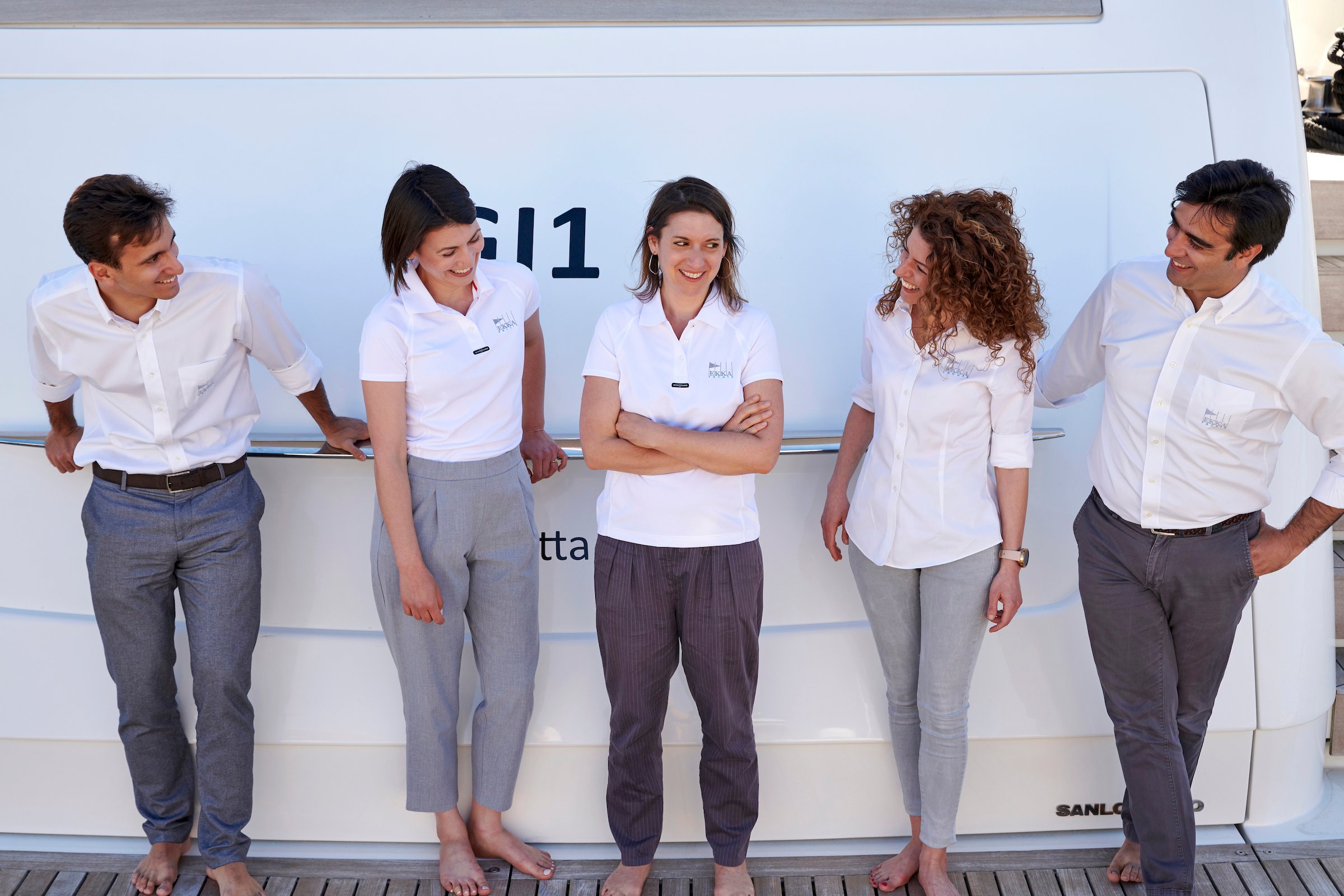 Our formidable charter team, always ready to make the perfect vacation out of a yacht charter: Nikos, Niki, Myrto, Karmelina, and Lefteris.
THE YACHT
The perfect vessel for you is out there
There is a huge variety of yacht options: many equally significant factors may influence your decision.
Your dream vacation: island-hopping, peaceful family time or an adventure?

The type of yacht you desire and the features that are important to you: size, speed, number of cabins, open or a flybridge? Your charter broker will clearly delineate all the options and differences.

Your companions on this journey: is it just adults or kids too? Every vessel has a maximum number of people allowed on board during the day.

The kind of facilities, water toys and tenders you are interested in: think about the activities (or complete relaxation) you have been longing for.

The yacht charter period and season. Bear in mind that the high season in the Mediterranean is from June to August and from mid-December to March in the Caribbean.

Your holiday duration and budget. Consider that some yachts require a minimum number of days for a charter, with charters shorter than a week incurring a premium. Moreover, depending on your yacht, fuel consumption may vary.

THE ITINERARY
Magnificent options at your fingertips
There is a wealth of locations and itineraries for you to choose from when chartering a yacht: from tours of the Greek islands, the Italian Riviera and Croatia, to the Turkish coast, the South of France and many others. Are you interested in sublime azure waters, or a cultural, culinary and archaeological experience? Your charter broker will consult with you from the beginning. Be sure to ask any questions on your mind and consider that different locations have different optimal dates. For example, the idyllic Aegean Sea experiences a 'meltemi' wind that could bring about rough sea conditions; if you are a nervous sailor then make sure you let your broker know, so that they may offer valuable relevant tips for your itinerary. Naturally, the details of your perfect route will have to be planned with the vessel's captain, the expert on all the nooks and crannies of sea and coast!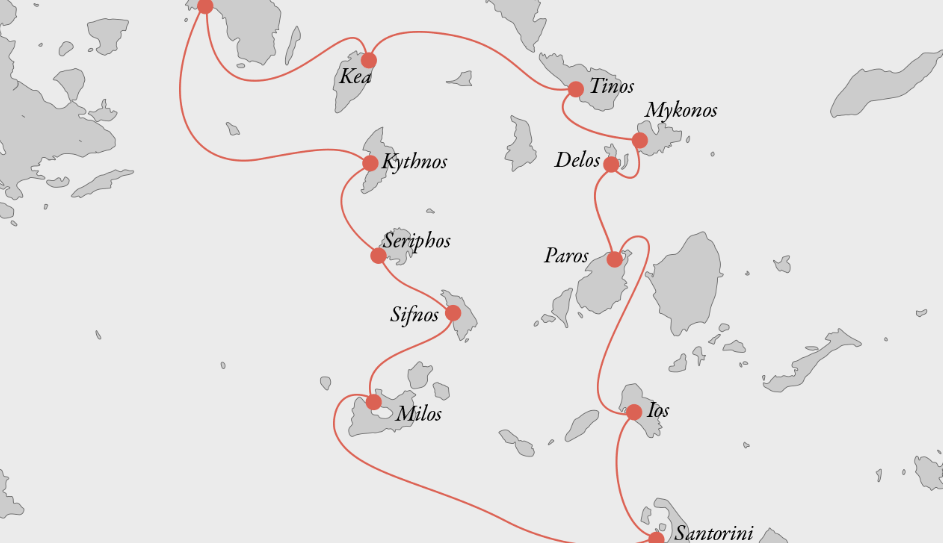 THE CHARTER AGREEMENT
The contract that offers you peace of mind
The Charter Agreement includes the dates and locations of your charter, the specifics of the payment structure and cancellation options, as well as basic rules of conduct aboard the yacht. Your broker will clarify the finer points until the contract is crystal clear to you. The most commonly used Charter Agreement is that of the MYBA (Mediterranean Yacht Broker Association). The typical payment structure requires a 50% deposit upon signing the agreement and the balance is due five weeks before the charter period. Cancellation policies are usually strict and offer no refund, but more flexible terms might be applicable according to worldwide conditions.
CHARTER FEES
Know what you're paying for
Charter fees are usually quoted per week. There are many elements that influence a yacht's charter fee. Apart from factors such as yacht size, age and shipyard pedigree, there is the matter of high season premiums, number of crew onboard, as well as available equipment such as water toys.
What is included in the charter fee
The fee includes the yacht rental for the period, the salaries and food of the crew and public marina fees, marine insurance for the vessel and owner's insurance of the crew.
What is not included in the charter fee
It is important to know the additional charges to the charter fee determined in the agreement:
The charter fee VAT

Yacht and water toy fuel costs

Food and drinks

Fees for private marinas, satellite communications, and special equipment hires

Yacht delivery fees applicable when charters begin or end at a distance from its usual base &

Crew gratuity
MADE TO ORDER
The flexibility you need
While it may appear as just a way to increase your bill, the added extras are in fact an advantage to the charterer. By not having an all-inclusive fee, the charterer can control the quality and quantity of food and drink to suit their needs. There is no one-fits-all solution, and so the cost is entirely up to the charterer. Fuel is charged only when it is used, and many other fees are also at the discretion of the charterer. As such, you have a way of controlling your expenses while relishing a lavish vacation.
THE APA (ADVANCE PROVISIONING ALLOWANCE)
Hassle-free vacation without interruptions
In order to eradicate mundane transactions for day-to-day expenses, a lump sum is collected in advance to cover the cost of food, beverages, liquor, and a portion of the fuel. The APA is essentially a bank account for the captain and chef, for provisions on your behalf.
As a round number, which depends on how much fuel the yacht uses and how fancy the meals and drinks are, you can expect to add 25% to 40% on top of your charter fee. Upon disembarkation, the remaining amount is either refunded if underused, or due if overused.
WHAT ABOUT INSURANCE?
Securing contingencies
The charterer's insurance is one expense not explicitly relevant to the charter yacht's service. Charter cancellation and curtailment insurance is the equivalent of travel insurance on airlines and cruise ships: It protects the charterer from financial loss if the charter is cancelled or cut short due to unexpected circumstances.
Therefore, it is advisable that you insure against any adverse eventualities. Don't hesitate to ask your broker for more information.
THE PREFERENCE FORM
A personalised experience
The preference sheet is a comprehensive document to help your captain and crew design the ideal vacation for you. Information such as food preferences, water toys, special provisions such as medication, entertainment and wellness activities, as well as requirements for babies and children are all taken into account when designing your ideal vacation. This form is completed and submitted at least one month before the charter is set to set sail. Don't hesitate to add as much detail as you want.
Click here to view our preference form.
WHAT TO TAKE ONBOARD
You're almost there – Time to pack that suitcase
Almost ready for your vacation, and the perfect moment arrives when all that's left for you to do is pack your bags! Here are the dos and don'ts:
Soft luggage cases, such as duffel bags, are ideal since they will fit much better in the storage spaces of the yacht.

Bring light and comfortable summer clothes, as even a luxury yacht rarely requires formal attire. Make sure you know your destination's climate beforehand, as well as the requirements of restaurants ashore if you are planning on dining outside the yacht. High heels are never a good idea during a yacht vacation, while even flat shoes are usually not allowed aboard a yacht. Bare feet are more fun anyway!

There are all sorts of amenities aboard a yacht, such as hairdryers, shampoo and sunscreen, so unless you can't live without yours, leave them at home to save space.

Essentials such as sunglasses, hats, gadget chargers and specific medication, but also your favorite books and music: don't leave them at home.

Keep in mind that it is not customary to do laundry on a yacht; should you require such a service at any point, a dry cleaner will be found ashore.

Don't forget your passport and visa documents! Everything else is useless without them.



THE CREW GRATUITY
Showing appreciation
Although not strictly mandatory, the MYBA advises a crew gratuity between 10-15% of the total fee (depending on yacht size), a rule of thumb that applies primarily to the European market. Your captain and crew are your support system during your holiday and they take care of every detail around the clock; it is wonderful to tip as a demonstration of satisfaction with their services. It is customary to offer the gratuity (in cash) to the captain on the last day; they will then divide it evenly among the crew. If you don't wish to carry such a cash amount during your holiday, your charter broker can keep a sum in escrow for that purpose that can be used as gratuity when the charter ends. MISCELLANIES
The important extras
There are various other things to consider when designing a picture-perfect yacht charter.
The kind of onboard entertainment you want: movies, internet, satellite TV, board games or cards.

There is a large variety of exciting water toys to choose from, such as jet skis, SEABOBS, inflatables, SUPs, etc. Extra toys can be rented, depending on the yacht's storage capacity. Please make sure to bring an appropriate license for activities such as scuba diving.

Factors such as the usage of water toys, exceeding the cruising speed, and designing lengthy itineraries will increase your average fuel consumption.

Smoking is permitted only outside and at designated spaces. There are very few yachts where smoking is allowed inside.

If you would like to bring your beloved pet, please check the yacht policy in advance. When pets are allowed onboard, a security deposit is required.
LAST BUT NOT LEAST
A little more than a year ago we set-out to contribute to the protection of the environment and marine life by financially supporting credible organisations such as Archelon. If you are reading this blog, you are most likely interested in enjoying life at sea. If doing so by yacht you may be interested in reading "Captain Petros' Map to Sustainable Yachting". This is a guide prepared for and distributed to all owners, charterers and crew that we interact with in an effort to raise awareness about the simple things we can all do while yachting that make little difference to our lives, and have a large impact on our environment.